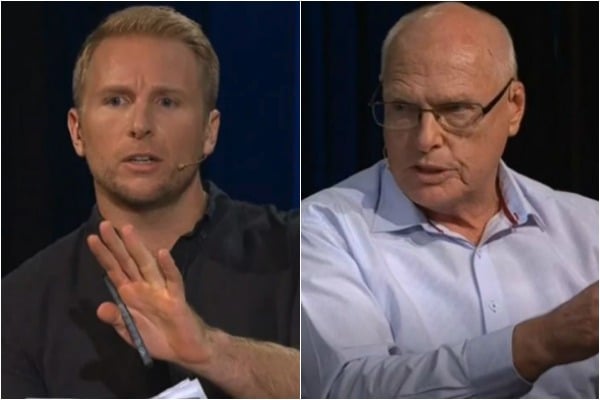 – With AAP.
1. "I am not relying on evidence." Liberal Senator heckled on Q&A for climate change response.
Many Australians affected by the bushfire crisis were in the ABC Q&A audience last night, and emotions were high as talk turned to climate change.
It was Hamish McDonald's first time in the hosting chair, and he certainly wasn't eased into the job.
Climatologist Michael Mann had just been talking about summer's weather conditions and how they weren't the "new normal" but that things would get worse if Australia and the rest of the world did not work together to lower carbon emissions.
McDonald then asked Liberal Senator Jim Molan if climate change was caused by humans.
Initially he said: "I accept the climate is changing. It has changed and it will change. What it's producing is hotter and drier weather and a hotter and drier country.
"As to whether it is human-induced climate change, my mind is open."
McDonald pressed him further, asking if he questioned the science and he replied, "I respect very much scientific opinion but every day across my desk comes enough information for me to say that there are other opinions".
"What is the evidence you are relying on?" McDonald asked.
"I am not relying on evidence, Hamish," Senator Molan replied.
He was heckled and jeered by the audience, many of whom had lost their homes and who sat there listening to Molan with their hands on their face in frustration.
Professor Mann replied with, "You should keep an open mind but not so open that you brain falls out".
2. 72 Australians have arrived on Christmas Island after being evacuated from Wuhan, China.
The first Australian citizens evacuated from the Chinese city of Wuhan have landed on Christmas Island.
Seventy-two people were on board the first of four charter flights expected to take more than 240 evacuees to the Indian Ocean island, The Australian reports.
The Airbus left Western Australia's RAAF Base Learmonth, near Exmouth, on Monday night, and touched down on Christmas Island about 9pm local time (1am Tuesday AEDT).
Those on board were among the 243 who had earlier been evacuated from Wuhan, the epicentre of the deadly coronavirus, via a Qantas flight that arrived at the Learmonth base about 4pm local time on Monday.
The first Australians rescued from coronavirus ground zero in China have made it to Christmas Island. After a marathon journey, passengers will now spend two weeks in quarantine. https://t.co/D6Oul78bUm @ChrisReason7 #coronavirus #7NEWS pic.twitter.com/iJlikn5kc5

— 7NEWS Toowoomba (@7NewsToowoomba) February 3, 2020