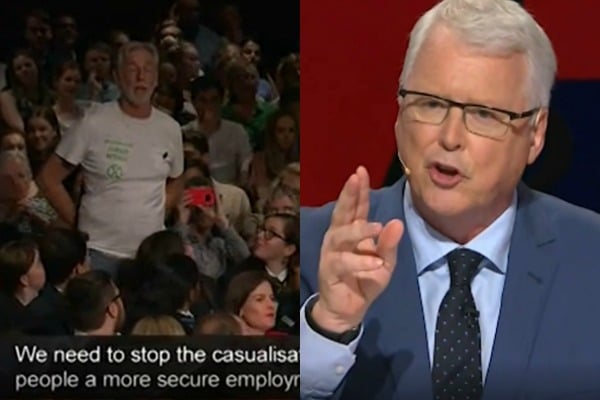 –With AAP.
1. "Just sit down." The moment a climate change protester interrupted Q&A.
A climate change protester disrupted ABC's Q&A on Monday night, when he interrupted a planned question and confronted the panel.
Early in the show, host Tony Jones called on audience member Ryan Small to ask a question of the panel, but as he stood another man, wearing a t-shirt with the logo of climate change activist group Extinction Rebellion, shot up and started speaking.
"Thanks Tony for coming across to Western Australia, we really appreciate you coming over here," the man said, to groans from the audience.
"Okay, that is not Ryan. You're not here asking a question, you've just jumped up interrupting the questioner, so please, if you wouldn't mind, just sit down."
The man could be heard yelling about the Prime Minister Scott Morrison and "religious freedom" before being drowned out.
"There's no microphone on you, so no-one can hear you. It's pointless," Jones said.
The man kept going, this time yelling about "fire chiefs" and "climate change" before Jones again told him no one could hear him.
"It is pointless. It's pointless. We can't hear you. There's no microphone," he said.
Security came to escort the man out and he yelled "Let me go" and "You're hurting me" as he was led out.
Jones then attempted to get back to normal programming, asking audience member Small to continue with his question.
As Small asked his question, about the cost of housing and negative equity, the man could be heard shouting in the background.
Jones congratulated Small on delivering his question under difficult circumstances.
The man later identified himself as Dr Colin Hughes on Twitter.
@QandA Here us the question I submitted but was not allowed to ask #Ifnotnowwhen ? @DoctorsXr @XRebellionWA #QandA pic.twitter.com/dAQZUwj3Jp

— Colin Hughes (@drcwhos) November 18, 2019