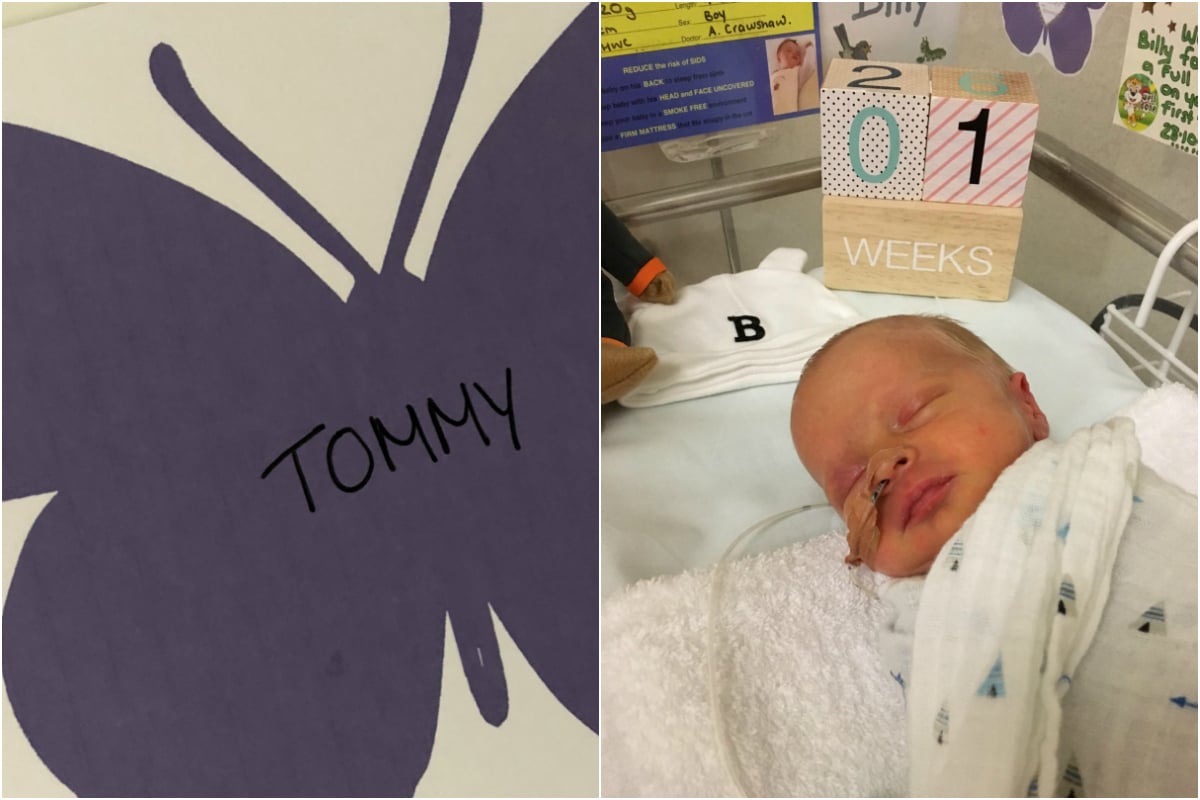 If you have experienced pregnancy or newborn loss, help is available 24 hours a day. Please call the SANDS National Support Line on 1300 072 637.
For his first few weeks of life, Billy Travers lay nested inside a hospital crib. Born on October 18, 2017, at 35 weeks, his little body was supported by a breathing device, his chest linked to machines monitoring his slow-beating heart.
But beyond the tubes and wires, Billy's crib also held a sticker. A simple purple butterfly, hovering just beside his head.
That sticker was given to his parents, Harriet and Leon Travers, by staff at Canberra's Centenary Hospital; a simple, heartfelt gesture acknowledging Billy's twin brother, Tommy, who for three short days had lain in a crib alongside him.
The Purple Butterfly Initiative.
The Purple Butterfly initiative was launched by the Australian Multiple Births Association in 2016 as a means of supporting families who have experienced the unique pain of losing baby from a set of multiples (twins, triplets, etc.) In 2014, there were 300 such deaths in Australia.
"We partnered with the UK-based Skye High Foundation to promote the Purple Butterfly in Australia, to gently remind staff and visitors to NICU/PICU/Maternity wards, that some parents may be grieving," AMBA Advocacy and Awareness Director, Daniel Fairfull-Smith, told Mamamia. "It also ensures that families are given the support and understanding that they need from staff, visitors, and other parents."
The AMBA sends Purple Butterfly packs (bundles of the stickers, posters, and bereavement brochures) to hospitals free of charge. So far, 44 such packs have been distributed to hospitals around the country, with an additional 26 sent directly to midwives and families.
For Canberra mother Harriet, being given the sticker meant recognition that her little boy was – is – twin, that she and Leon are parents of three.
Their Tommy died on the morning of October 20, 2017. His death was unexpected, and more than a year later the cause remains unknown.