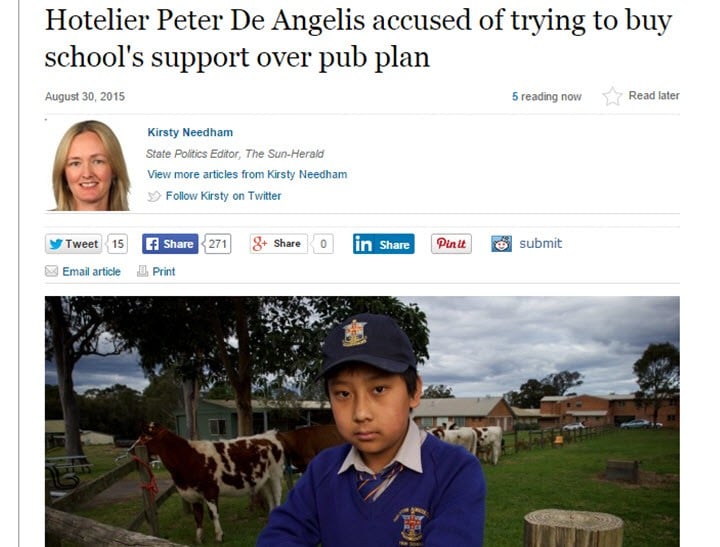 Oh the shock and the horror!
A hotelier has offered a primary school incentives such as new lighting for its sporting grounds should it withdraw a petition to stop a pub being built nearby.
A story in Sunday's Sydney Morning Herald explained how the Casula Parents and Citizens club were "horrified" by the "bribe" and remained as determined as ever not to have the pub go ahead and be built 135 metres from the school grounds.
"We don't want people who are drinking or gambling near the kids," Jacinta Tran, mother of year 6 pupil Alexander, who started a 700 strong petition, harrumphed.
"They tend to become more aggressive and it doesn't send a good message to children. The kids don't like it," she said.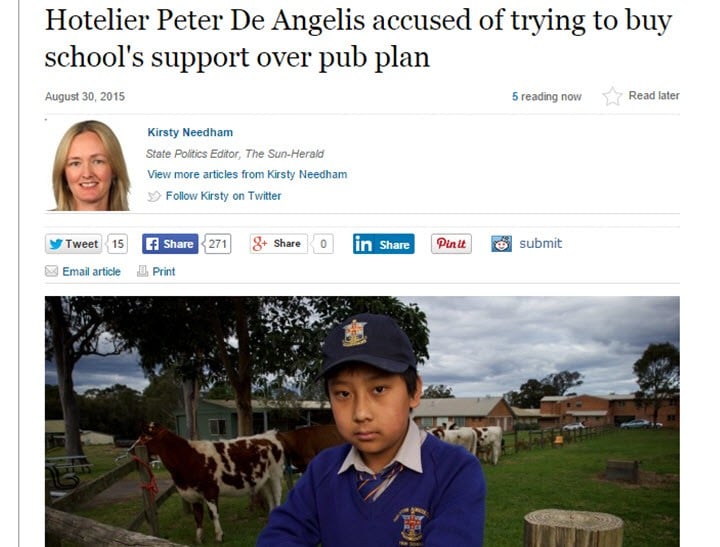 Well, here's what I'd like to say to Mrs Tran and all the other alarmed parents, "Get a grip!" I understand that you care for your kids' safety but I'm sorry to say the world does not rotate around your offspring.
This 'protecting the children' hysteria has gone too far. A pub is called progress, an incentive that will no doubt bring money and employment to the Liverpool area. Yes, people will drink and gamble on the pokies at a pub but last time I checked, adults are allowed a life too, one that doesn't need to kowtow to the myriad fears of helicopter parents.
There was a pub down the road from my school, which also sat near an RSL. And I didn't learn till years later, a brothel working out of a nearby premise. I don't recall any drunks harassing me, other than my mother after a few white wines, rushing me to the car to avoid traffic.
And before you start to think I'm on publican Peter De Angelis' payroll, take a deep breath, because I'm not. Never met him and frankly hadn't heard of him until I read the story yesterday. All I'm trying to say is that a pub is not a nuclear reactor, a toxic waste dump or rife range for the blind. It is a pub people, something those primary school kids will grow up to visit. Hell, they may even get a job there! It is a playground for adults. A part of society.
But my argument isn't about the merits of pubs, it's about the ridiculous demands of parents these days, how having an infant or young child makes you somehow able to call the shots on how the rest of us live.