Some love stories are pretty straightforward – you meet, you fall in love, you get married, the end.
However, many are a little more complicated than that.
Take Candice and Sonny. The Melbourne pair got married, had two kids, then divorced. And then… they started dating again and even decided to buy a house together earlier this year.
Their love story featured on The Project on Thursday night at the end of a compilation of good news stories. It was soon apparent this was more than just a chance to shine a spotlight on a cute couple – it was the set-up for a public proposal.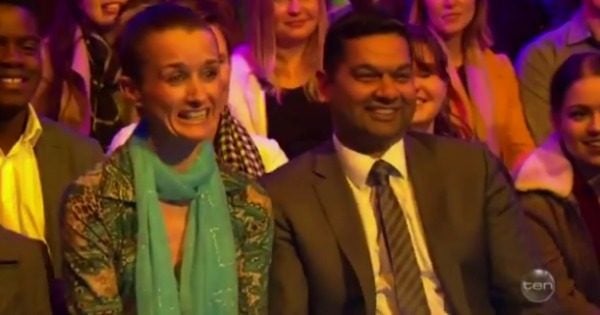 It was Candice who did the proposing.
"Hi, Sonny, I know you are in the audience tonight with our two gorgeous boys," she said in a pre-recorded clip that appeared on the screen.
"I love you and I would like to ask you to marry me and be my soul mate until the end of time?"
Sitting next to her ex-husband in The Project's live audience, Candice then turned to Sonny, who smiled and replied, "yes".
Listen: A woman has been with her boyfriend for four years and he's not taking her marriage hints. Should she ask him?

The couple embraced as the audience behind them cheered and clapped.
It was clearly too much for Carrie Bickmore and her fellow panel members, who were all wiping away tears as the camera turned back to them.
Carrie closed the segment by wishing them all the best, saying, "We hope you have a long and happy life together."
What's the best proposal you've seen?