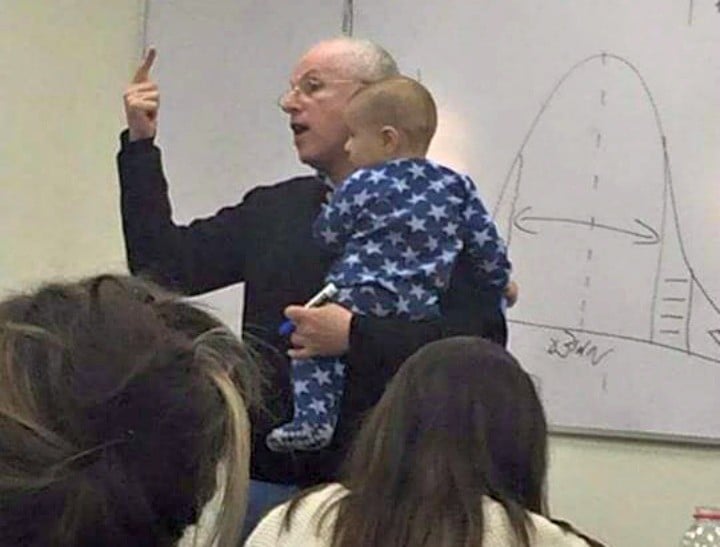 It's an image that has been liked and shared more than a million times because it shows what many mothers need at times of stress: Kindness and dignity.
Sydney Engelberg, a professor at Jerusalem's Hebrew University, was leading a lecture on organisational behaviour when a student's toddler began crying.
The student, a young mother, had been unable to organise a babysitter and was forced to bring her child along to class at the last minute.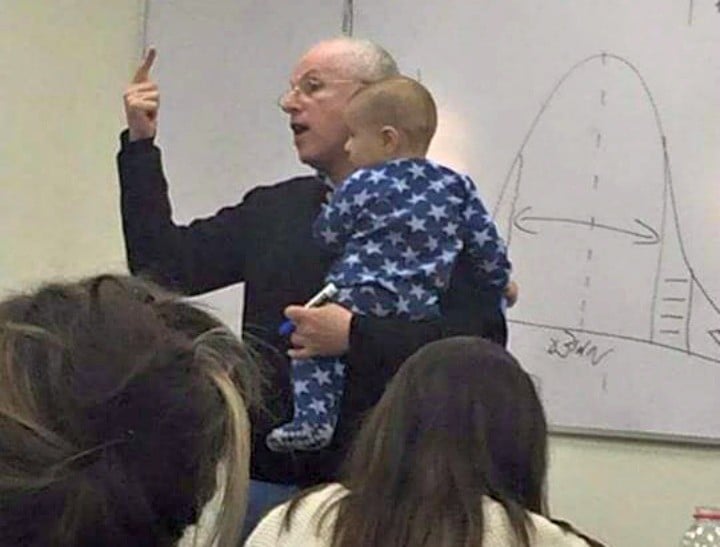 The student moved to take her child out of the classroom — but instead of getting frustrated at the interruption, Engelberg, 67, simply picked up the toddler to calm him and continued to teach, allowing his student to continue taking notes and learning.
Respect.
The story has gone viral after a fellow student uploaded the sweet pictures to Imgur.
The original caption reads:
So one of the students came with her kid, because she didn't have a babysitter. the kid starts to cry in the middle of the class, so his mom, all embarrassed gets up to leave, and the professor took the kid from her, calmed him and continued teaching.
He's gotten love letters," the professor's amused wife, Fredi Siskind Engelberg, told Yahoo Parenting. "He's pretty blasé about it, and we just find it all very funny. I think it must have happened on a no-news day."
Engelberg's daughter Sarit Fishbaine also paid tribute to her dad in a Facebook post.
This is what I call an excellent organizational behavior lesson…Because my father is the best in the world.
Based on his awesome reaction to having a crying baby in his classroom, we tend to agree with her.
Some online praise for the professor, via imgur: