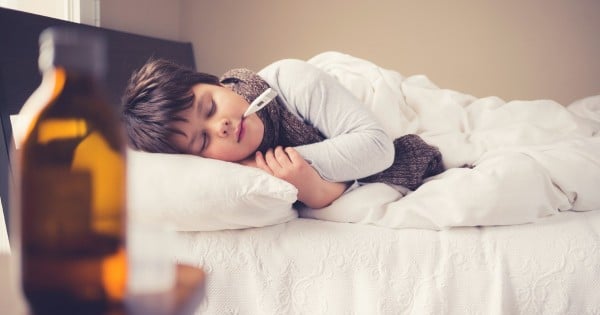 'Be prepared'. It's not just for girl scouts, it's the motto of mums everywhere. Being prepared when it comes to illness and injury can mean the difference between a quick resolution and driving around at all hours of the night looking for a 24-hour chemist (not fun with a teething baby, trust me!)
After three children I've worked out that it pays to have a few 'essentials' in the bathroom cupboard for when the bugs come knocking, or your child decides to 'fly' off the couch at 8pm on a Sunday night. To save you the emergency dash for supplies, here's a list of products every mother should have in her bathroom cupboard. You know, just in case.
1. Band-Aids and first aid.
I know, I know, this one seems kind of obvious but once your kids start moving, you're going to want some first aid supplies in the house. I'm talking plasters, antiseptic cream and splinter probes (especially if you have boys who like to climb trees). Grab yourself a basket and have a wander up the first aid aisle, chances are you'll use it at some point. Obviously plasters featuring Disney characters make 'ouchies' feel so much better than the normal ones but if your partner is anything like mine, you'll probably want a box of plain ones on hand too!
2. Electrolyte replacement products.
I cannot tell you how many times having a box of these in the freezer has saved my family, especially when the kids decide to be generous with their gastro germs. Most mums will agree that once your child starts childcare or preschool, the first year is a killer. It seems that almost every week you're dealing with a new illness. And yes, they will pass it on to everyone else in the family. The last thing you want to be doing is driving to the chemist to find electrolyte replacements when your tummy is uneasy. Do yourself a favour and grab a box, stick it in the freezer and hope you don't need them. (You can also get these kinds of products in a flavoured drink which is handy to have in the back of the pantry).