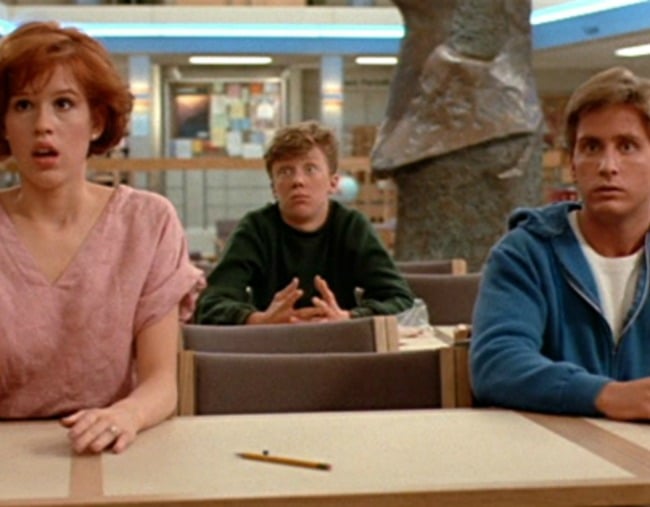 Molly Ringwald has been praised for airing her concerns about her 1985 film The Breakfast Club, which she has said is now "troubling" to her due to scenes involving sexual harassment.
The actress re-examined the teen film, about five misfit students held in detention on a Saturday, while questioning its director John Hughes in light of the #MeToo movement against harassment.
Writing in The New Yorker, Ringwald, 50, said she recently watched the film again with her 10-year-old daughter and, after fearing her child would be concerned by it, she "hadn't anticipated that it would ultimately be most troubling to me".
"At one point in the film, the bad-boy character, John Bender, ducks under the table where my character, Claire, is sitting, to hide from a teacher," Ringwald wrote.
Tracey Spicer joins Holly Wainwright and Rachel Corbett to deep dive on why the #metoo movement has kick-started a new way of thinking worldwide. Post continues after audio.
"While there, he takes the opportunity to peek under Claire's skirt and, though the audience doesn't see, it is implied that he touches her inappropriately."
She added: "What's more, as I can see now, Bender sexually harasses Claire throughout the film.
"When he's not sexualising her, he takes out his rage on her with vicious contempt, calling her 'pathetic,' mocking her as 'Queenie.' It's rejection that inspires his vitriol."
Ringwald noted that, despite all of this, the film sees him "get the girl in the end".
She said that she thought about the film a lot after re-watching it, particularly after a number of women came forward with sexual harassment allegations against the likes of film producer Harvey Weinstein and others.
"If attitudes toward female subjugation are systemic, and I believe that they are, it stands to reason that the art we consume and sanction plays some part in reinforcing those same attitudes," she wrote.