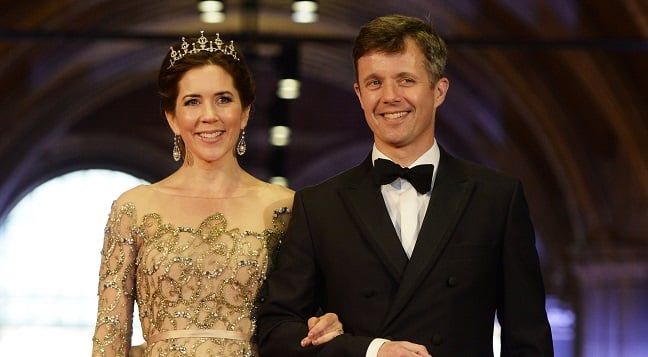 Awww. We love getting a glimpse of Princess Mary's brood of tiny royals.
Hey there, Mary and Fred.
After 10 years of marriage, Crown Princess Mary attended the 80th birthday celebration of her father-in-law Prince Henrik of Denmark on Monday.
In tow were Crown Prince Frederik and their two eldest children, 7-year-old Princess Isabella and 8-year-old Prince Christian.
To mark the big 8-0, Copenhagen put on a royal concert. Princess Mary wore a Toni Maticevski (go, Australia!) cream gown embellished with white and gold tulle overlay that cinched at the waist. She continued the gold-threaded headpiece and gold hoop earrings. While her daughter, Princess Isabelle, looking so adorable, wore silver flats to match her silver and white-toned party dress.
Clearly metallics are in.
Prince Frederik and Prince Christian wore suits.
And unfortunately, the twins stayed at home.
The royal couple also hosted a brunch to celebrate Prince Consort Henrik's birthday in Orangerie at Fredensborg Castle in Fredensborg.
CLICK THROUGH the gallery to see more photos of our favourite Danish family:
Want more? Try this:
How "our" Mary is celebrating 10 years of being a real-life Princess.
So, we're so glad someone's judging what these kids are wearing…