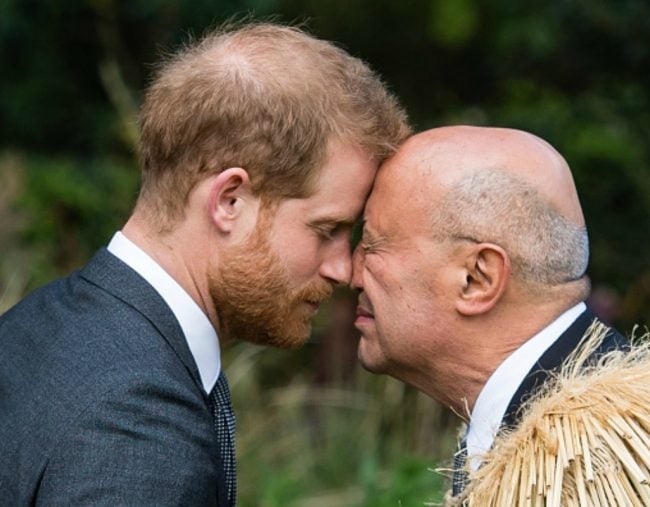 A translator at her side, the Duchess of Sussex broke into a grin as a Maori elder wished her strength with her soon-to-be "pepi" during the royal couple's welcome to New Zealand's South Island.
It was with the blowing of a conch that Prince Harry and Meghan were greeted on Monday to a beachside camp at Totaranui in the Abel Tasman National Park, rain falling around them.
Under a marquee, a kaumatua (elder) from the local iwi (tribe) Barney Thomas spoke in Te Reo Maori, wishing them well with their pepi (baby). Meghan smiled as the words were translated for her.
He also explained why the Duchess was seated a few inches behind the Duke in the front row.
"The middle represents the god of war and we don't want to put our women into that space.
"We want to be inclusive but especially Meghan, because she's expecting, we don't want to put her at any risk."
Harry shrugged off the rain as he spoke to the crowd.
"The weather forecast was a lot worse than this and we are really fortunate to be here.
"The rain is a blessing and a reminder of our connection to the land," he said.
"From my wife, myself and our little bump, it's a blessing to be here."