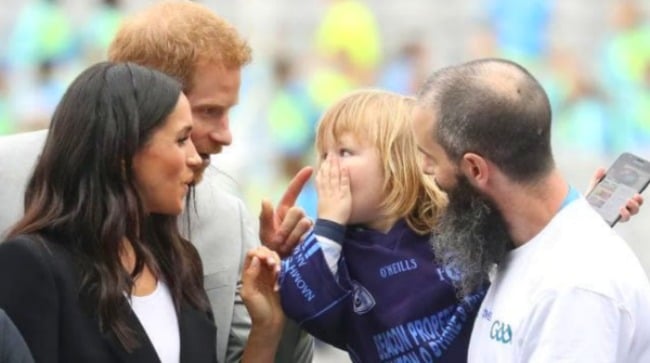 The Duke and Duchess of Sussex are currently on tour in Ireland, and by all pictorial evidence, they're thoroughly enjoying themselves. As to be expected, Markle's style has been the subject of much discussion, as she wears impeccable outfit after outfit, and captures the world's attention.
But in a rare move, her husband has stolen the limelight – albeit for a split second.
On Wednesday, the newlywed royals were at Croke Park, home of the Gaelic Athletic Association. There they met young footballers, and a little football fan by the name of  Walter Cullen. The waiting media captured an exchange between the three-year-old and the Duchess of Sussex, but that wasn't what made the moment priceless.
The toddler was blowing kisses to the Duchess and pulling her hair, before the Duke playfully intervened, wagging his finger in mock reprimand, as if to say, "Keep your mitts off my Mrs!"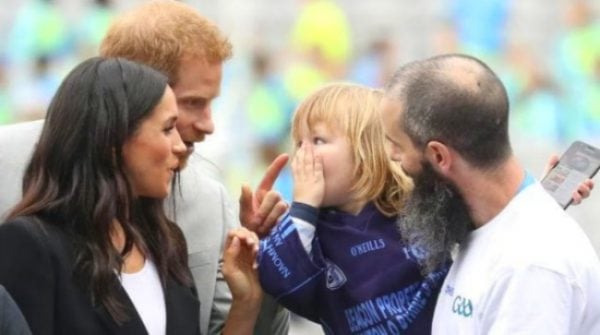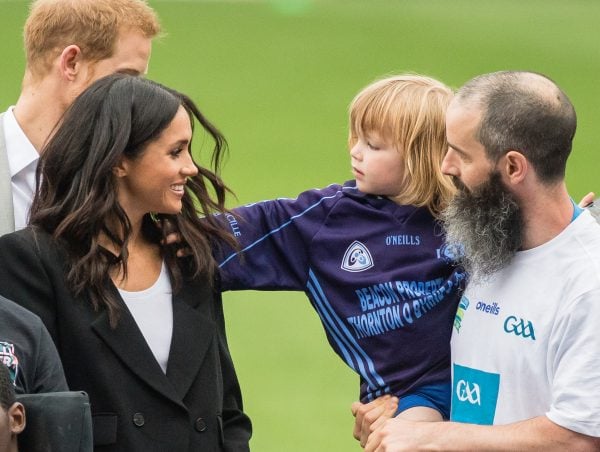 It was a fun and adorable moment, and further evidence of just how good Harry is with children. The Duke has a reputation for being excellent with children the world over, from Mutsu Postane, the African orphan he befriended fourteen years ago and whom he invited to his wedding, to his own royal nieces and nephews. Harry's playful spirit is something he seems to have inherited from his mother.
And, just to bring the attention back to the Duchess' style for a moment, she was wearing a black pant suit by Givenchy and white T-shirt, paired with a Givenchy clutch and black leather Sarah Flint pumps.