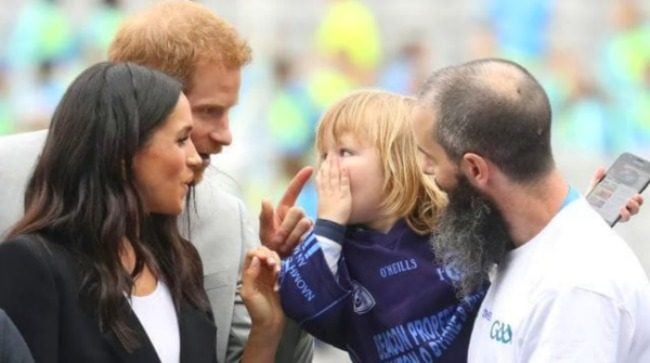 The Duke and Duchess of Sussex are currently on tour in Ireland, and by all pictorial evidence, they're thoroughly enjoying themselves. As to be expected, Markle's style has been the subject of much discussion, as she wears impeccable outfit after outfit, and captures the world's attention.
But in a rare move, her husband has stolen the limelight – albeit for a split second.
On Wednesday, the newlywed royals were at Croke Park, home of the Gaelic Athletic Association. There they met young footballers, and a little football fan by the name of  Walter Cullen. The waiting media captured an exchange between the three-year-old and the Duchess of Sussex, but that wasn't what made the moment priceless.
The toddler was blowing kisses to the Duchess and pulling her hair, before the Duke playfully intervened, wagging his finger in mock reprimand, as if to say, "Keep your mitts off my Mrs!"