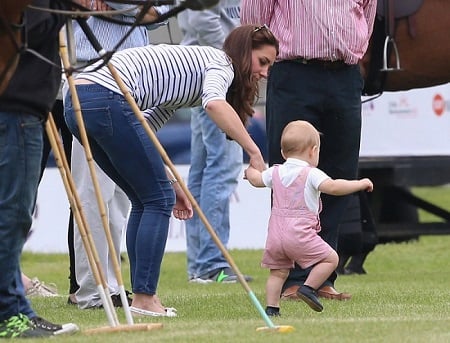 His Royal Cuteness Prince George of Cambridge, who is set to turn 1 in just a month, has taken his first public steps over the weekend, proving that he is just like a normal baby – well, kind of.
Prince Cute was cheering on his dad and Uncle Harry at the Cirencester Park Polo Club when he was snapped taking a walk with his mum Kate AKA The Duchess of Style. And it is officially the most adorable thing we have seen since he decided to eat his mum's hair and play with a bunch of children in New Zealand a few months ago.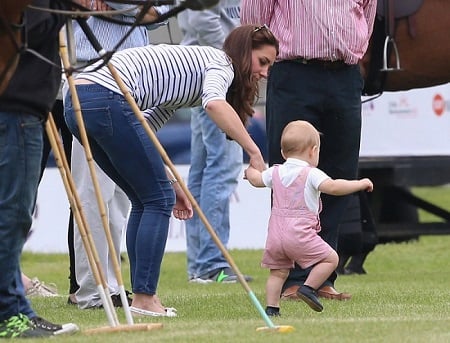 Just look at him go!
George, who was on an "impromptu family day out" according to Clarence House, was also seen playing with a football on the sidelines as Duchess Kate tried to keep up with him. According to the BBC this is the first time that the third in line to the throne has shown the world he can walk – and boy are we glad he decided to do it while wearing his pin-striped jumpsuit.
We're certain the Duke and Duchess will be even busier now that their little Prince is cruising around. It might be time to put their China back in the cabinet.
Follow Mamamia Fluff on Facebook

Mamamia Fluff brings you the most awesome celebrity news and gossip from around the world.
When famous people misbehave, get married, have babies, or do something ridiculous – you'll be the first to know.