So Priceline is having another sale. Yeah, we feel ya, right before an expensive long weekend.
But we've all got to make the best of the hand we're dealt, which in this case is up to 50 per cent off hair care*, 30 per cent off hair electrical and 50 per cent off hair brushes and accessories.
Rough, right?
To help you navigate the Priceline hair care sale which is on in-store and online from Tuesday March 27 until Thursday March 29, we asked three of Mamamia's lifestyle writers which products they'll be using their elbows to beat the crowds a.k.a. you to nab for themselves.
As you'll observe above, Leigh has impossibly shiny and generally lovely hair. The kind of hair one sees on TV commercials.
Below are her picks of the Priceline hair care sale because, believe it or not, her hair takes a bit of wrangling to look so good.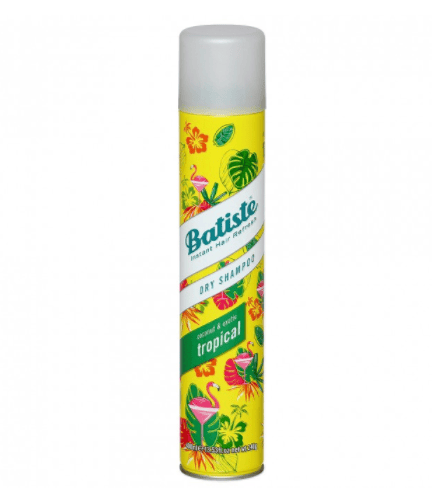 "I go through so much dry shampoo it's not funny, so stocking up during the sale is a no-brainer."
"Batiste it my fave because it absorbs the oil at my roots better than other brands and adds subtle volume to the rest of my hair. The scent is really nice, too."
"I have that annoying hair type which is fine but oily so volume is an illusive little bugger."
"This shampoo (yep, there's a shampoo too) and conditioner duo is one of the only I have found that manages to strike the perfect balance between adding volume while still making my hair soft (but not oily). I try other brands but always come back to this."
"Elnett has been used on pretty much every photoshoot I've been on and for good reason. It's hairspray but not as you know it."
"The light hold is totally brushable, meaning you can change your mind (and style) and brush it right out. It's the perfect all rounder for hold, texture and volume."
Britt's spent more money on testing out products to chill out her naturally curly hair than she'd like to admit.
Here are the products she recommends so your bank balance can make it out of the Priceline hair care sale somewhat intact.
"This is hands down the best hair product I've ever found for my curly hair."
"I scrunch it through damp hair and my curls are perfectly formed without being crunchy."
"The L'Oreal Paris Elvive Oil is the best multi-tasker for dry hair."
"Use as an intensive hair treatment, to get rid of flyaways or to slick back hair if you're feeling brave."
"Make the most of the discount and opt for a quality hairdryer. This one helps leave hair super shiny and frizz-free. Your will hair will thank you."
Lifestyle Editorial Assistant Amy Clark
While Amy gladly saves money by not having to dye her naturally red hair, she more than makes up for it buying products to try and tame her frizzy flyaways.
Below are the products from the Priceline hair care sale she'll be stocking up on. Unless you beat her to it.
"As an everyday blow dryer, I've tried a bunch of hair oils but many have a knack for turning my freshly washed hair into a greasy mess. But this one's formula is the perfect consistency - lightweight but not nothing-y, but also won't leave your hair looking like you dipped it in veggie oil."
"Work a pump or two of the product through the mid to ends of your hair while damp before blow drying, or smooth over the top when you're done for a sleek finish."
"There's generally only two ways you'll see my naturally curly hair styled - blow dried straight or properly curled. As my natural waves are riddled with cowlicks, I prefer to use a curling wand to create beach waves."
"Yes, it's a lot of effort to curl hair that is essentially already curly. But the end result is far smoother and neater thanks to this curling wand's ceramic surface. For 'I woke up like this' waves, curl your hair using the included heat-proof glove, spraying your curls with a medium hold hair spray as you go, then tip your head over and brush them out. Fin."
"If there's ever a time to splash out on pricier hair care products, it's during the Priceline sale. This OGX argan oil treatment is indulgent and feels so good on, it's the kind of product you've got hiding in your 'occasional' cupboard full of lotions and creams you only use when you're pampering yourself. But this paraben and sulfate-free mask really ought to be in your weekly rotation."
"I like to jump in the shower and get all the bits and pieces out of the way before applying a generous scoop of the good stuff to my hair and drying off. Then chuck on a shower cap and watch TV/eat/do literally anything for 20 minutes before rinsing off for hair so smooth you'll stroke it obsessively for hours after."
*Head into your nearest Priceline Store or jump online to find some bargains in the Priceline hair care sale from Tuesday the 27th to Thursday the 29th of March. See sale terms and conditions for exclusions.
What are you eyeing off in the Priceline hair care sale? Tell us in the comments.
Want to win some skin care goodies? Like to have your opinion heard? Take our short survey now for your chance to a win a skin care pack.