Femininity is an interesting word. To some it conjures images of floaty dresses, floral fragrances and long hair, while others view it as being comfortable with who they are and not trying to conform to anyone else's ideal.
Kirstie Clements firmly believes in the latter. She was the editor-in-chief of Vogue Australia for 13 years, clocking up 25 years with elite publisher Conde Nast in her tenure, so it's safe to say she knows what women want from fashion.
But what about sex?
That's where her latest venture comes in.
"Lisa and I used to work together at Vogue when I was the editor and she worked in the advertising department. We kept in contact over the years and when Lisa started her business, she asked me to come and have a look. She showed me the whole idea and I thought it was great," Kirstie told Mamamia.
The business she speaks of is Porte Á Vie, an online destination and curated collection of lingerie and intimate accessories. Lisa Hili founded the business three years ago.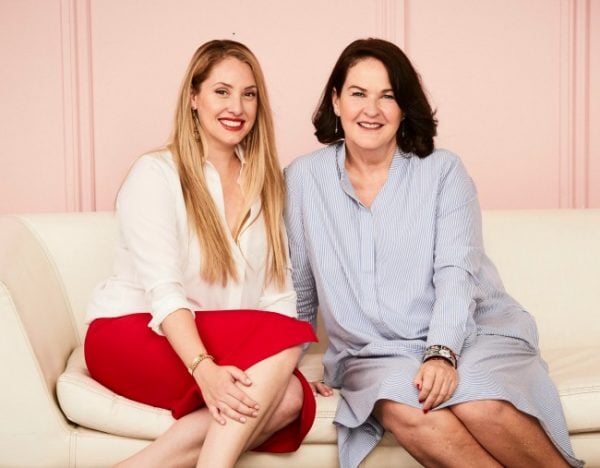 "Lisa really believed in the business and needed take it to the next level. She asked if I wanted to get involved as a consultant or if I wanted to be on the board. Basically we were throwing ideas around.
"When I took a good look at business I realised just how clever it was. It was obvious it had legs if it had some capital behind it so we decided yeah, let's do it. Let's go all in. That was about a year ago."
With Kirstie on board the duo was determined to make a safe and inclusive space for women to explore a side of themselves that was possibly closed off, or that they wanted to open wider. The brief? To cater for every woman.
"Female sexuality has had a huge shift with the whole 50 Shades Of Grey effect," Lisa told Mamamia.
"At the same time there was also a shift in sex toys - things like the technology and the intricate design behind them."
"One of the biggest things I identified was that there just wasn't an adequate retail infrastructure for the kind of products we are now seeing. There's all these beautiful brands that are headed up by really clever women, but they didn't really have anywhere to be sold," Lisa said.
"They were all being sold in the same kind of seedy sex shops - which is fine, there's definitely a place for them - but we wanted to create an environment which was very comfortable for women and we have always had an underlying ethos whereby women should feel empowered on our website."
Both Lisa and Kirstie felt it was important to put the power in women's hands.
"It's all about their pleasure and them being in control. Things like selling collars, we stay right away from that, because if she's tied up that's because she wants to be tied up," Lisa said.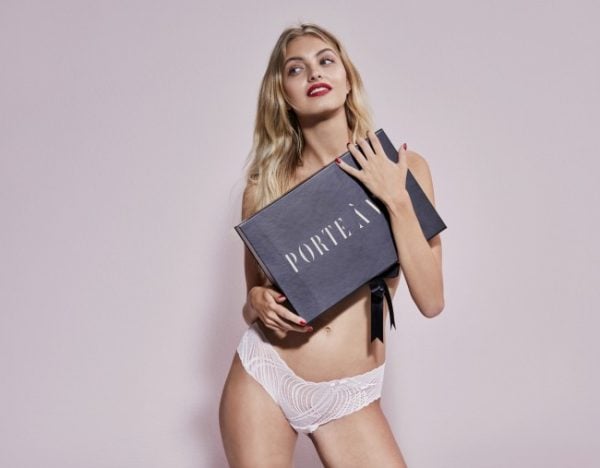 "One of the things we wanted to do was make sure the size offering was as accessible as possible. Kirsite has really helped our offering less ageist and less sizeist. We have an all-size offering - we don't call it plus-size, we call it all-size."
Beyond size, Porte Á Vie also aims to cater to women at every life stage.
"We like to think of our customer as somebody who starts on a journey with us. She might be looking at getting her first bralette that's quite accessible, or maybe a knicker set. Then she might be looking for a toy that is entry level," Lisa said.

"We offer a bridal collection and cater for the wedding night and honeymoon."
"We also cater for the maternity phase in women's lives. We've got a really beautiful maternity range because it was something that I was super frustrated with when I was having my baby. I was trying to find something nice, not even sexy, but just a pretty maternity set."
"We also focus on those in a relationship - we call it the Seven Year Itch - but sometimes it happens and bit sooner, or even later."
"And then we explore life stages right through to when you're getting older and your body is changing, catering for the later stage in life for those who might want to reconnect with your partner, like perhaps when the kids have left home. We've also got mastectomy bras," Lisa said.
As for what's next, Kirstie is keen to use her editing skills from her magazine days to make Porte Á Vie an inspiring destination not only for customers, but also creatives.
"Brands have become their own media. It's the same as the magazine world where a reader would enter your environment and believe in your environment, now brands are creating that for themselves," Kirstie said.
"I am still well and truly of the belief that creativity is really important, so we are going to launch a digital magazine very shortly."
"I want this to be a creative space for people to contribute and play so that we are offering something extra to our customer than just a toy or knickers. We want to offer her a really lovely space and for her to feel like she's welcome in that space. She's a friend."
A sex column has gone viral after a guy asked for advice as to why his girlfriend was masturbating AFTER sex, that's why it is time to talk about men and orgasms…..

Shout out to all Dads.
Here at Mamamia we are always looking for ways to make Mamamia even better. Dads, we need you to help us do that by filling out this quick 15 min survey for us. Click the button below for your say.

Want to win some skin care goodies? Like to have your opinion heard?
Take our short survey now for your chance to a win a skin care pack.