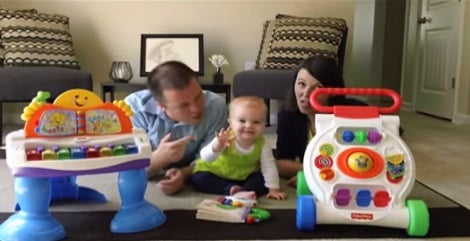 As far as pregnancy announcements go, this one was a lot of effort.
Whenever you announce anything these days, you need to pretend you are a creative-director. For example, you can no longer ask your bestie to be your bridesmaid – you need to make the invite original.
And pregnancy announcements are no different. Example: This couple decided to re-write the lyrics to Taylor Swift's song "We Are Never Ever Getting Back Together" (normally reserved for the post-break up ice cream eating stage) to announce the pregnancy of their second child.
They start off explaining that after their first born, with only an hour of sleep in the first month, they decided they were done.
And then, when their 1st born turned 10 months old, they figured - why not another?
The reminisce on the times that they were thinking being a threesome was best, and add some nappy throwing in.
We give them 4 stars out of 5 for creativity. And 5 out of 5 for finding the time and energy to do this with a pregnant-mama and young bub.
Watch the whole video here (warning, the tune is catchy):
 CLICK THROUGH for more creative ways to announce your baby news…
How did you announce your pregnancy, or birth of your child?