In the best news you will hear today, there's only two more sleeps until 2016 is finished and we never have to talk about it ever again.
Considering we're twins, and everyone knows twins are a) magic and b) spooky AF, we know a thing or two about the future.
So here are our 17 predictions for 2017.
1. Trump resigns as President with cryptic Tweet that simply reads: "Lol jks".
2. In 2016, we saw a return to the 90s. In 2017, it will be all about the 2000s — belly warmers and Supre shirts that read 'Naughty Gal'.
2016 was definitely the year politics went psycho. (Post continues below.)
3. There was the side boob. Then the side vag. Now it's all about the side butt hole. 
4. People then start contouring their side butt holes because obviously. 
5. Jennifer Aniston falls pregnant with Brad Pitt's baby and women's magazines have biggest collective orgasm recorded in world history.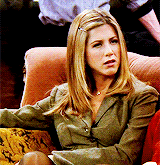 6. Man will make joke about women's sport. No one will laugh. Because it's not funny. 
7. This year, Vogue stated that boobs are now out of fashion. In 2017, left arms will be declared so 2016 so there will be a significant rise in voluntary amputations. We retrieve our breasts from the back of our wardrobes.