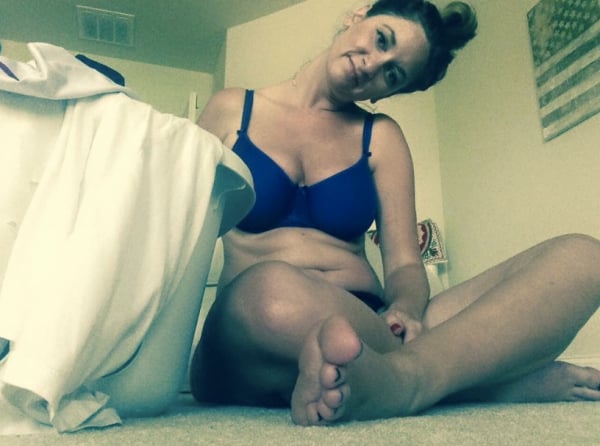 A surge of adrenaline hit me. I wanted to snap a selfie. A semi-nude selfie.
I was hot and bloated. Thank you, summer and PMS. This was probably the LEAST aesthetically pleasing time to post a nude-ish selfie on my Facebook page. Hardly attractive.
Yet, the urge to not give a f-ck and rebel was strong. Unshakable. I had a renegade itch. A longing to be radical. To be real.
I'd never done it before. Hell, I hardly snap selfies, period, unless someone else is in the frame with me. And even with someone else in the picture, it feels awkward, ridiculous, and somewhat self-indulgent to me.
This day was different. The uprising in me was undeniable.
I stripped off my pajama shorts and tank top and flung them into my closet. I stood in front of my mirror in my black silk thong and purple everyday bra (you know the one, you wear it every day because it's the most comfortable and makes your boobs look phenomenal).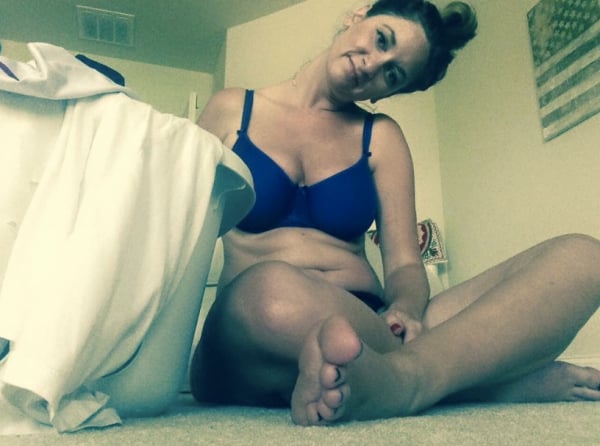 As I looked down, the negative thoughts came creeping in. I began judging myself.
Dammit. I hate my doughy stomach. Why can't it be thinner? Flatter?
If I just smell bread I swell up like a balloon!!!! FML.
I cursed myself for eating gluten-free bread for breakfast.
I examined the bulge on my back forming under my bra. I scanned my cellulite-speckled, pancaked ass. I glared at my C-section scars. My saggy tits.
When will I stop caring? When will I stop this masochistic self-hate cycle?
I'm a 31-year old grown-ass woman. A mother.
I should know better. I should know better than to care about this manufactured, body image bullshit. I should know better than to buy into the media-produced, photoshopped version of people.
The beauty industry has me by the balls, but I should know better. I should do better. The internal conflict was relentless.
My mind teetered back into positive-action mode.