When I realised I was pregnant, I was 28, unemployed and six months into my marriage (that had been arranged through our parents). As we had dated for a few months before we got married, we knew each other but there were a lot of facets yet to be discovered.
As a couple, we felt that it was too early for us to have a child but were averse to the idea of termination and thus decided to continue with the pregnancy. It was my husband who broke the news to the family. Though everyone felt it was a little too early, they were happy and soon started celebrating with us. I had a healthy pregnancy, but I hated what it was doing to my body.
As a teenager, I did not have any body issues. But now I hated what the pregnancy hormones were doing to my face. I did not feel like venturing outside the home as my nose had bloated and totally altered my appearance. However, I decided not to let this bother me and continued eating well and was bidding my time, reading books like What to expect when you're expecting and trying to correlate my experiences with it.
When I broke the news to my friends, I received a variety of reactions. This, I realised later, was due to the fact that all of them were in different places in their lives, with most of them not having even been married and thus, their issues were very different from mine. They were facing different challenges in the form of a job change, a breakup or a new relationship and none of them could understand what I was going through. All their questions related to my pregnancy were mostly to address the stereotypes that they had heard around them and so I was often asked questions like, 'did I feel like eating khatta all the time?'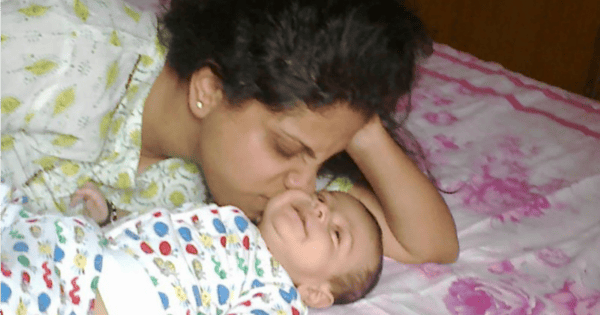 While the first few months were easy, it was only when my belly began growing and my nose started swelling further that I fully came face to face with the fact that I was carrying a child inside. Most of the early months were spent in the doctor's waiting room, looking at the faces of other expectant mothers. Sometimes, I would find a fellow mother-to-be's bump replaced by a tiny human all bundled up in her arms. That was a sight which brought joy and let to wonderment of how I would feel once my bundle came outside of me.
First time mum
As a child, I had no immediate interactions with any pregnant women and thus I had no idea of what it meant to be a newbie mother. I did not know how to welcome the life I was going to bring in this world. My husband, I realised, was equally nervous despite all his efforts at exuding confidence and stating that we would get past it when the time came. With my pregnancy drawing to a close, I expressly asked for my parents to be by my side. During one of the checkups before delivery, I was told that the umbilical cord was around the baby's neck, and the doctor told us our options in such circumstances was to go for a C-section.
Another problem was that even at full term, the baby's head was not coming down. I remember sitting in the doctor's room, where the junior doctor was telling me that I needed to do strenuous physical work like sweeping and mopping the floor in order for the baby's head to come down. I remember the tone she used with me, implying that I had spent my entire pregnancy at leisure. She even said that her Muslim patients had more chances of normal deliveries as compared to us Hindus who were so used to having everything done for us.
Later at home, both my mother and my mother in law asked me to try the doctor's advice but I was not ready to budge as I felt humiliated and demeaned by her somehow. I was scared for myself and the life I was going to bring in this world and instead of empathy, everyone around me had a lot of ideas regarding the kind of strenuous works I could start in order for the labor pain to arrive. As it was discovered during my C-section, I had a huge fibroid, which was not visible in the scans, which as the doctors later pointed out laconically, may have been the reason for the baby's head not coming down.