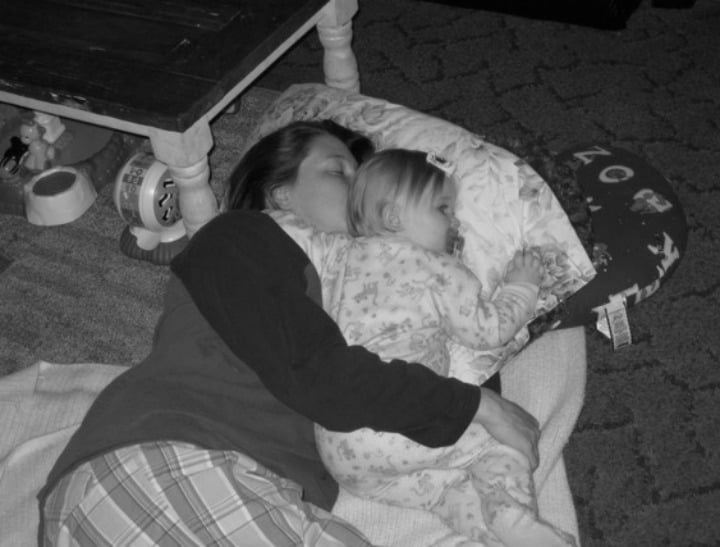 I am not that mum who sits on the floor with you playing My Little Pony for hours. I am not the mum who builds entire towns on Minecraft. I have never learned to play Pokémon and I never (ever) will. I am well aware of my failure in this aspect of parenting.
I am thankful for my husband, who excels in watching cartoons and playing video games. I smile when I see him and the kids tossing a football in the yard. (In the yard. No throwing balls in the house. Jesus.) I laugh when they wrestle and tickle and play, play, play.
I'm just not that mum.
I was the young soon-to-be mum, scared to death but determined, so determined, to bring you into this world and love you like no other. I was the single mother of two who worked long hours and still held dance parties with just my two boys where we sang at the top of our lungs and the laughter rang as loud as the music. Before you were even born, I was the mum eating cherry cheesecake so I could see you dance. (And because cheesecake.)
When I first saw you, I knew that you would hold my heart forever. Two more times I met my new sweet babies, and two more times my heart grew to wrap around all of you. When you were a baby, I was that mum who couldn't sleep for looking at you. I can still feel you, so tiny, snuggled on my chest. When I see you asleep now, I still picture you curled up in footie pajamas, all wispy hair and dark lashes against perfect skin.
I was that mum who rocked you all night, patting and bouncing and shh, shh, shhing when you cried. I was the mum who panicked over every bump and bruise. I was the mum who kissed boo boos. I was the mum who spent untold hours waiting on casts for broken bones or bandages for cut fingers. (Safety scissors, my ass.) I was the mum whose leg you were firmly wrapped around the day we toured preschools. I was the mum who went to school online in order to work from home because you needed me.