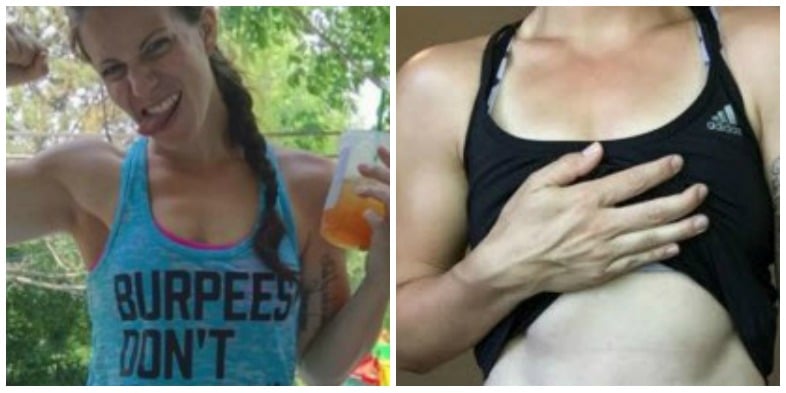 We all know ~bouncing back~ after pregnancy is no walk in the park (although that might help).
And because it's ridiculous that the social pressure to do so is even a thing, it's eminently heartwarming to see a woman celebrate the realities of motherhood in a raw and honest way.
This fit Canadian mum-of-three has done just that, proudly flaunting her abs alongside the sagging skin and stretch marks from her pregnancies.
Marissa Fearon, 27, has been sharing her body positive progress on social media for nearly a year under Kayla Itsines' popular Bikini Body Guide program.
And her Instagram title is wonderfully named @babiesandpushups_. And she is hella strong, just look at those guns.
She recently posted a close-up photo of her tummy with a touching message about her coming to terms that her "stomach will never look like some of the girls that inspired her," explaining it was the "hardest part of this journey".
"I will still struggle with the fact that after three kids in four years it will never ever look the way sometimes I wish it would," she wrote.
"I will always have loose skin. It will probably always be a 10 shades lighter because even though I am more comfortable in my own skin than I ever have been, I still get self conscious baring it for the world to see.
"It will always be marked. But it bears the marks of my sweet babies. My sweet babies that grew inside of it.
"Learning to love and appreciate our bodies for what they are now is the bravest thing a mama can do and every day I feel braver and stronger than ever. I am proud of this stomach, even if it less than perfect. Perfect is boring anyways."
We asked three women the child birth questions you were too afraid to ask. Post continues after video…
She says women need to love themselves more, criticise less.
"I definitely felt pressure to 'bounce backas I think all mums do — because of celebrities and social media," she told the Daily Mail.
"Women in general put so much pressure on themselves to be like the celebrity women and moms out there."