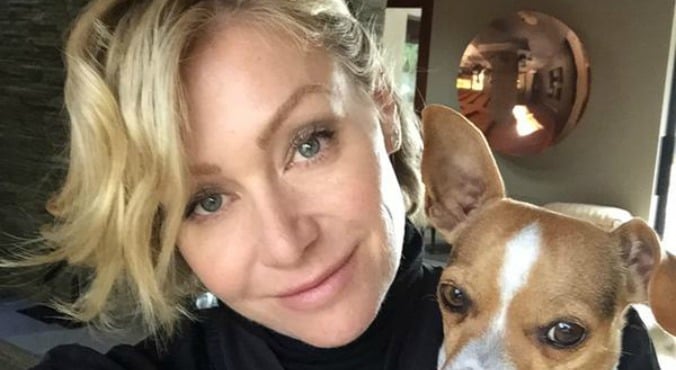 Image via Twitter.
An unhealthy relationship with our body image can start at an early age – Kim Kardashian reportedly started crash dieting when she was just 13.
Unfortunately, it's not rare. A study released this year found that 80 per cent of 10-year-old girls had been on a diet.
Now Portia de Rossi has spoken out about how dieting at the age of 12 led her to develop anorexia and bulimia as part of a documentary series called It Got Better. (Post continues after video.)
In the video, the 42-year old Scandal actress and wife of Ellen DeGeneres spoke about how dieting during her early modelling career caused almost 20 years of body image struggle.
"After my father died, I went to work as a model which it was horrible. Everything became about what I looked like, everything was hinged on it and I felt tremendous responsibility when I was 12 years-old and was put on the catwalk".
In preparation for the runway show, de Rossi revealed she didn't eat for over a week.
RELATED: Pink proves once again that she really doesn't have time for body bullies
"My modelling agents had told me to go on a diet. So I didn't eat for 10 days before then, and then I get up on this catwalk, and I'm a little kid, and I'm posing and trying to be sexy and strutting around, and all the other models are making fun of my bushy eyebrows," she said.
"When I got in the car after I opened up a giant bag of my favourite candy and literally put my whole face in it. Then I think 'Shit – what have I done? I just undid two weeks worth of dieting.'" (Post continues after gallery.)
Behind the scenes with Portia De Rossi
That was the start of something more serious.
"I'm 12 years old. So then I vomit. I erase the feelings with food and erase the food with vomiting, but you're still left with the shame," she explains.
"It makes me emotional just thinking about that day… It was just horrible."
RELATED: "Body-shaming in all forms is inexcusable": Isabelle Cornish shuts down her critics 
Clinical psychologist and director of Shape Your Mind, Dr Olivia Patrick says that eating disorders in young women is a growing problem.