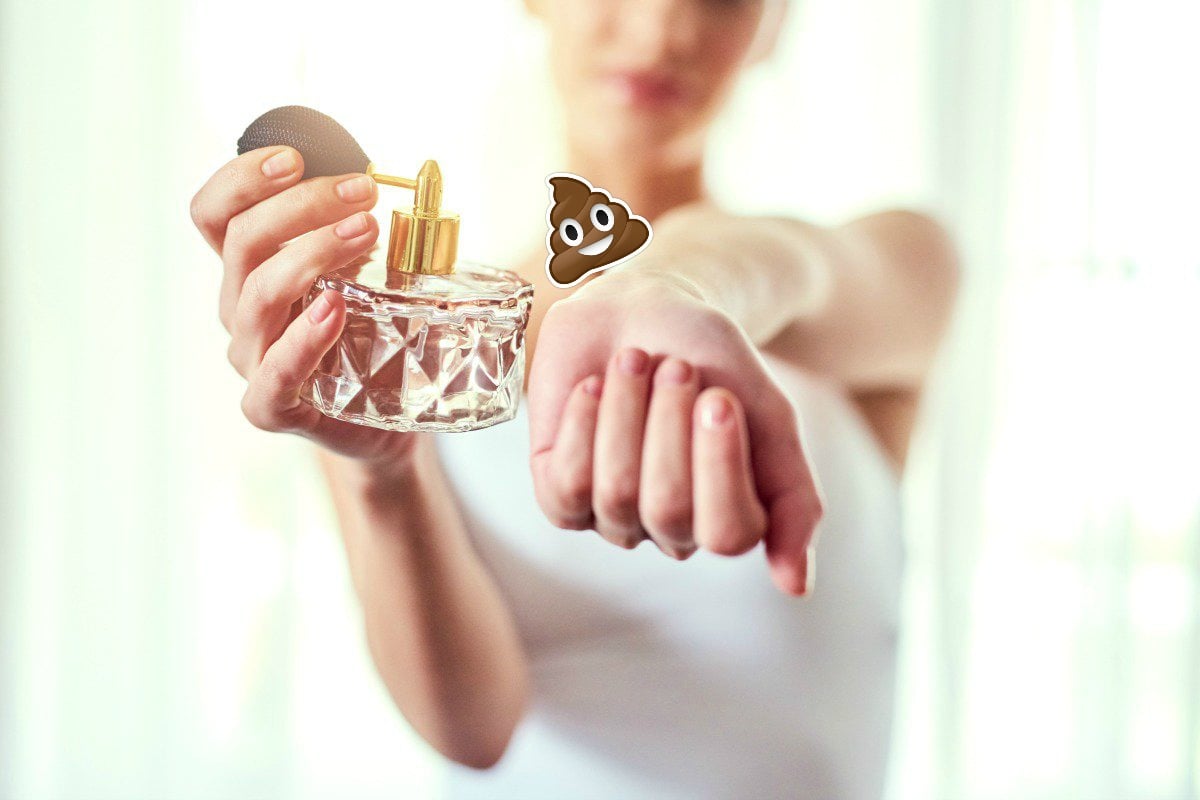 Newsflash: there is poo in some of your favourite perfumes.
Well, not literally – that's probably illegal – but a naturally occurring chemical that can smell both floral and faecal. And the freakiest thing? The poo scent is supposed to make your fragrance smell better.
Indole is the organically occurring compound found in white flowers such as jasmine, gardenia and orange blossom. The oils of these flowers are the powerhouse scents behind many a famous fragrance, and a mere whiff of a white floral can immediately conjure up memories of sultry summer nights.
And yet, indole is also found in some damn stinky things like coal tar and, yes, poo. As with many of nature's gifts, indole can also be replicated synthetically in a chemist's lab.
According to HMDB (Human Metabolome Database), which is like IMDB for chemicals, indole "occurs naturally in human feces and has an intense fecal smell. At very low concentrations, however, it has a flowery smell, and is a constituent of many flower scents (such as orange blossoms) and perfumes."
In non-scientific terms, indole is like that mysterious, sexy person you met on a dating app.
They send you witty texts, and they seem to really care about you. Yet when you meet them IRL, after an hour too long in their company you realise that they have the charm of a turd and probably had their copywriter friend concoct those texts. Indole! Such a trickster!
The presence of indole in a fragrance, whether from a white floral or a synthetic compound, can lend the fragrance a human, sexual edge.
Alienor Massenet, a perfumer who has created fragrances for luxury brands such as Chloe, Giorgio Armani and John Galliano, describes indole as "a very powerful molecule, both in masculine and feminine fragrances… it's very animalic." And we all know what "animalic" means: SEX!
Unfortunately for me, I discovered the existence of indole not in a science lab, but from enthusiastically applying a fragrance and then learning much later on that I smelt like poo.
I'd been on the hunt for an everyday fragrance that was floral but also a little bit sexy and exotic. My previous go-to was Euphoria by Calvin Klein, but I was after something different this time; something a little less youthful, and preferably with more natural ingredients.
After an afternoon of spritzing fragrances, I thought I'd found The One. It had a strong, sensual jasmine scent, which would be perfect for these warmer months. The fact that it was affordable meant that I quickly bought it without taking the time to truly experience the fragrance.