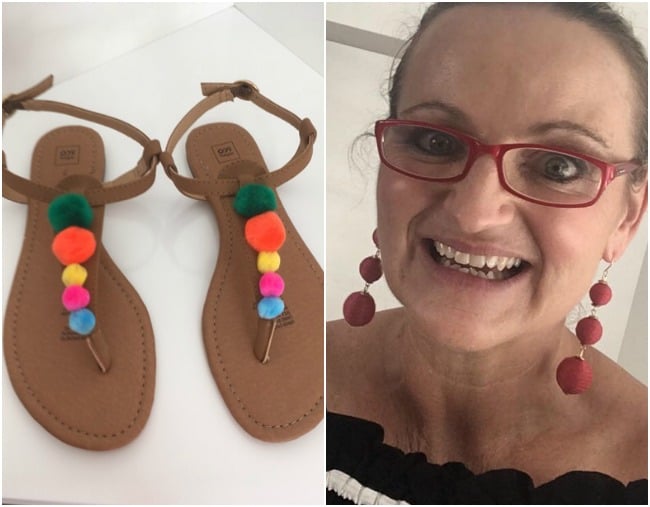 A Brisbane mum has shared a clever hack to transform "cute but boring" Kmart sandals into a fun pair of pom-pom shoes.
Michelle Rhodes took a pair of $6 tan sandals from Kmart and got crafty with a $2 packet of pom poms, and the results were impressive.
Michelle told New Idea she bought the pom poms in a pack from a craft shop and simply glued them on with craft glue, pressing down so they stayed in place.
The self-confessed "pom pom addict" shared the hack on her Instagram page, Look What I Found, where she offers her 2400 followers other crafty hacks and budget finds.
Michelle also shared another creative way to transform the same T-bar Thong Sandals using a $4 pair of tan earrings.
"I simply pulled the top section apart removing all the small pieces attached to the wire, threaded through the shoe and bent the wire around a pencil to create the round shape," she explained in the Instagram post, adding this could be done using any earrings you like.
"Squeeze tightly so ends meet and glue (using strong fabric, craft glue) the big jewel section onto the shoe.
"Easy peasy."
The Well team discuss author Elizabeth Gilbert's view on hobbies and doing what you love. Post continues.
Michelle has also decorated hats, cushions and bags using cheap craft store items like feathers, tassels and buttons.
The full-time carer to her son Jacko told New Idea she's scouring Kmart looking for her next project idea.
"I love a creative challenge. I'm so pleased and very excited that I have inspired people to get creative again."
Shout out to all Dads.
Here at Mamamia we are always looking for ways to make Mamamia even better. Dads, we need you to help us do that by filling out this quick 15 min survey for us. Click the button below for your say.

Adelaide mum Danielle Holloway created her perfect pantry using items from Kmart, Aldi, Costco and The Reject Shop.