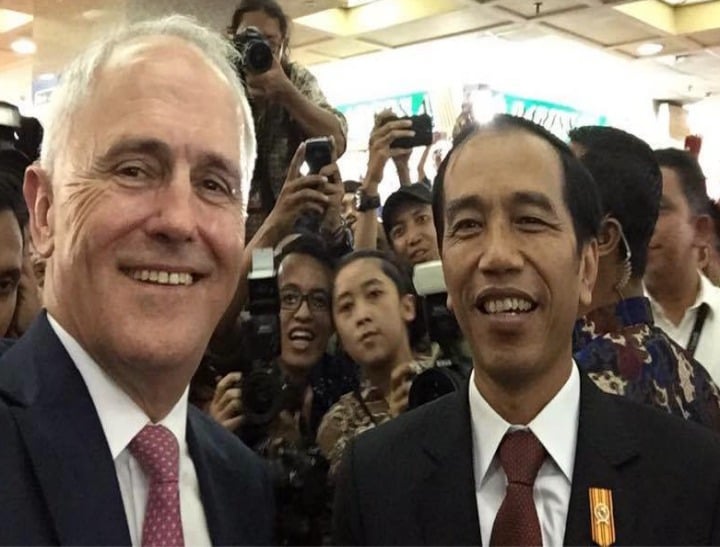 We've rounded up all the latest news from Australia and around the world – so you don't have to go searching.
1. PM meets with Indonesian president.
The Prime Minister Malcolm Turnbull has met with Indonesian President Joko Widodo after months of tense relations.
The Prime Minister and his wife Lucy spent 12 hours on the ground in Jakarta where they were welcomed with a billboard to mark their visit, and an honour guard at the presidential palace.
The president acknowledged the "friction" between the two countries.
"The position of our two countries, Indonesia and Australia, is close to each other," he said.
"That's a fact that we can't change.
"The closer the position, the higher the intensity of our relationship.
"The higher also the potential for friction."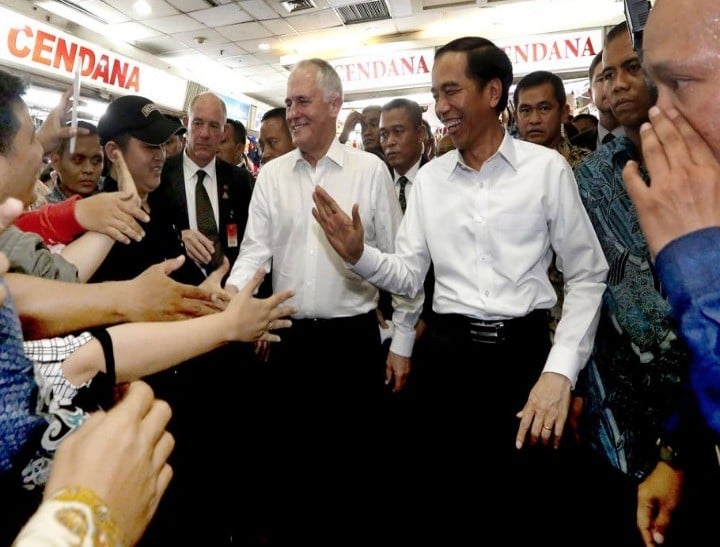 After the two had lunch together the president invited Mr Turnbull onto his trademark 'blusukan' walkabout.
They visited the Tanah Abang markets where they were greeted by thousands of shoppers and stallholders.
Mr Turnbull said "The temperature is warm but the warmth of the people towards the president is much warmer still."
Overnight he flew to Germany where he will meet Angela Merkel.
2. Police appeal at Marsden State High over Taihleigh Palmer.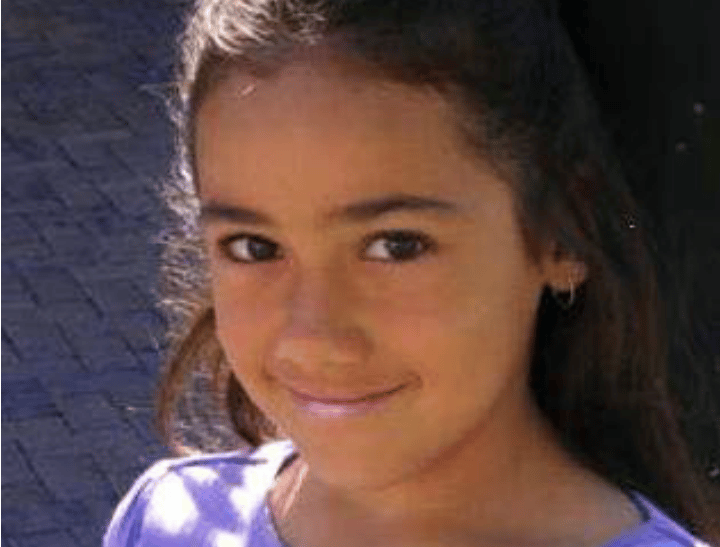 Police will today set up a mobile CrimeStoppers station at Marsden State High school in a bid to find out what happened to Tiahleigh Palmer.
The 12-year old's badly composed and semi-naked body was found last week in the Gold Coast's Pimpama River, 30km from Marsden State High School where she had been dropped off.
With their major appeal to the public today they will also set up at the river site where Tiah's body was found, stopping cars and questioning passers-by.
Nine News reports that more than 60 officers are working the case with some admitting they may never know what happened to the 12-year old.
3. Price Charles bottom pat making headlines.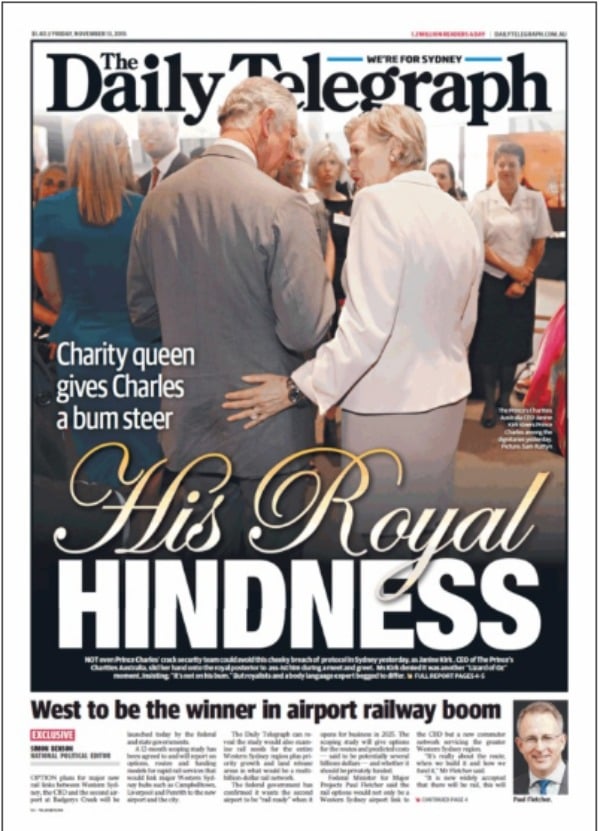 Prince Charles's bottom is making headlines after a charity organiser allowed her hand to linger a little too long and low on the royal posterior.
The Daily Telegraph used their front page to dub the incident "Welcome to Arse-tralia " after Janine Kirk, chief executive of the Prince's Charities Australia patted the royal on his bottom captured by the world's camera.
The woman dubbed a "charity queen" denied it was in appropriate.
"It's not on his bum," said Ms Kirk "It was a room of about 130 people. He was being engaged as he always is and so he was being moved through the crowd," she explained.
4. Six sights revealed for nuclear dump.
Energy and Resources Minister John Frydenberg has unveiled a shortlist of six remote locations across the country to house a nuclear waste dump.
The sites named were: Cort­linye, Pinkawillinie and Barndioota in South Australia; Sally's Flat in central NSW; Oman Ama in southern Queensland; and Hale near Alice Springs in the Northern Territory.
Mr Frydenberg told The Australian last night he hoped the voluntary process of nomination will produce a candidate that "ticked all the boxes" economic, environmental, engineering and community support."
Mr Frydenberg said a permanent facility was needed because Australia had the equivalent of two Olympic-sized swimming pools of low-level and intermediate-level radioactive waste, including laboratory items and materials used in medical treatments.
More than 100 sites, including hospitals and universities, were licensed to store this waste on an interim basis.
5. "I didn't think fondling was criminal."
Warning: This item deals with child abuse. 
The Royal Commission into Child Abuse has heard a startling admission from a former headmaster at a Brisbane school that employed two paedophiles.
Ex-St Paul's School headmaster Gilbert Case told the commission yesterday that he didn't believe a teacher touching or fondling students' genitals would be a criminal act.
Mr Case was asked about a former teacher who exposed himself to boys during a game of "truth or dare" at a school camp in Caloundra, on Queensland's Sunshine Coast, in 1983.
He said, "was a factor in that teacher leaving the school,".
But when asked if the adult teacher's actions had extended to "touching or fondling" a boy's genitals, whether he would have considered that to be a criminal act. He said "I probably did not think of that in terms of criminal acts,"
Mr Case apologised about writing a reference for the teacher Gregory Robert Knight
"I can only apologise to the commission and to any students anywhere in Australia or anywhere else who were affected as a result of my writing this reference," he said.
"I believe it was a stupid thing to do and something I should not have done."
For help: Lifeline: 13 11 14. 
6. Family day care pool ban considered.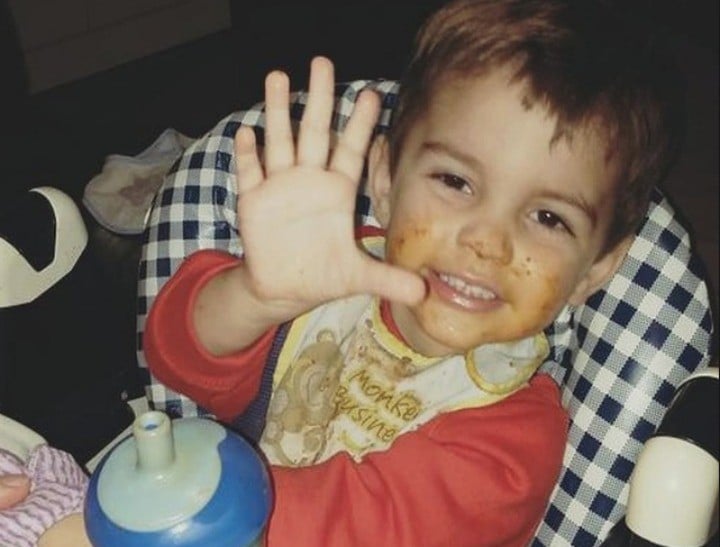 Just days after a toddler died at a family daycare after climbing a fence and drowning in a pool there is a move to ban swimming pools at family daycare centres.
Two-year old Lachlan was pulled unconscious from the backyard pool of the Perth home of his family daycare centre on Monday morning. He later died in hospital.
WA's Minister for Local Government and Community Services Tony Simpson said that he would propose the ban to the national body that regulates family daycare centres.
He said he supported banning pool at family day care rather than enforcing a new fence height that would have to apply to all pools in WA under law.
Yesterday Lachlan's parents released a statement paying tribute to their "beautiful little man", his carer and staff at the hospital.
They said they were mourning the loss of a "special little guy that is still charming people wherever he goes".
They called for changes to the laws and regulations to make daycare centres with pools safer, including higher minimum fence heights.
"Family daycare has been an extremely important part of Lachlan's development. Therefore, we would urge the public and government organisations to work with the centres in Perth to create positive change in Lachlan's name," they said.
"Lachlan was a bright, inquisitive boy full of life, affection and the occasional mischief.
"He loved his carer and she loved him. She brought so much confidence and joy to our boy, we will forever be grateful."
7. Bill legalising same-sex adoption passes Victorian Upper House.
Same-sex couples in Victoria have won the right to adopt children after the government's same-sex adoption bill passed the upper house 31 to 8 but religious organisations have also been given the right to refuse same-sex adoptions.
The bill will now return to the lower house.
8. Chinese are buying up all the formula due to unethical marketing.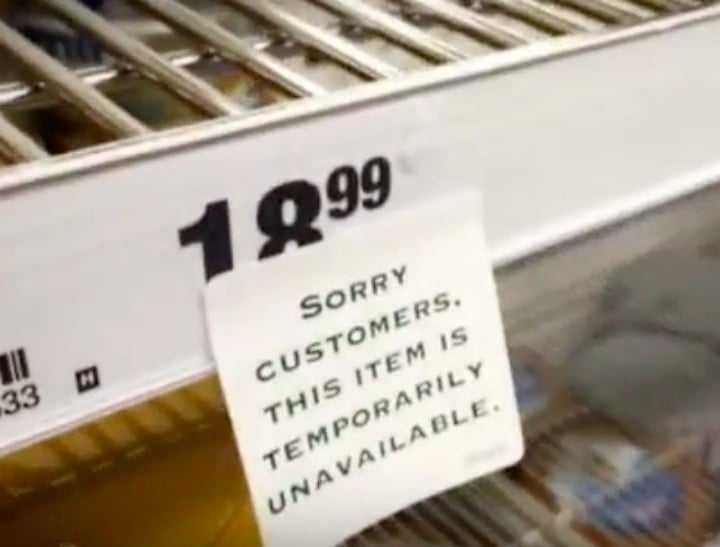 As thousands of parents across Australia struggle to obtain the infant formula they need for their babies an infant feeding academic has explained the real reason that Chinese consumers have such a high demand for Australian brands.
Dr Karleen Gribble from Western Sydney University told Fairfax Media that the main reason Chinese parents were willing to fork out  $100 for a tin of Bellamy's Organic and A2 Platinum was because they had succumbed to unethical marketing claims.
"Formula marketers have tapped into this desire to falsely claim their products enhance brain development and health. Child prodigies and sports stars abound in marketing campaigns, and hospitals are recruited to promote formula brands to new mothers in hospitals," she said.
She told Fairfax Media that in the past the one-child policy meant two parents and four grandparents saw a baby as the future of their family so they wanted "only the best products."
 9. Woman who pretended to be man to have sex with friend jailed for eight years.
A British woman who duped her female friend into having sex by pretending to be a man for two years has been jailed for eight years.
25-year old disguised her appearance and voice as she persuaded the other woman to put on a blindfold when they met up.
The pair had sex about 10 times until the complainant ripped off her mask and in disbelief saw Newland wearing a prosthetic penis.
Sentencing Newland, Judge Roger Dutton labelled her "an intelligent, obsessional, highly manipulative, deceitful, scheming and thoroughly determined young woman".
The judge said "The judge said: "To successfully pass off a deception of this complexity was a major undertaking involving dedicated mobile phone lines as well as regular texts from you purporting to be Kye's relatives.
"You pursued this course of conduct over a lengthy period during which you played with her affections, acting entirely for your own sexual satisfaction and choosing to ignore the devastating impact that the eventual discovery of the truth would have on her."
10. Baby born in Bangladesh with two heads.
A baby girl has been born with two heads at a hospital in eastern Bangladesh.
The baby girl was born on Wednesday and is being treated in the intensive care unit of a Dhaka hospital for breathing difficulties.
According to AFP she has only one set of vital organs.
"When I saw my baby, I was awestruck. She has two fully developed heads. She is eating with two mouths and breathing with two noses," her father, Jamal Mia, told AFP.
"Still, I thank Allah that she and the mother are now okay."
Thousands of curious locals have flocked to the hospital in Dhaka in the hopes of being able to see the baby.
Her father said he is concerned about how he will be able to afford the care his daughter will need.
"I feel sad for her. She has been born to a poor man. I don't have money to even properly treat her mother," he said.
There have been a number of cases of polycephaly, the condition of having more than one head, in recent decades.
One baby was also born in Bangladesh, in August 2008, a boy named Kiron died three days later.
11. Dad buys world's most expensive gem for 7-year old.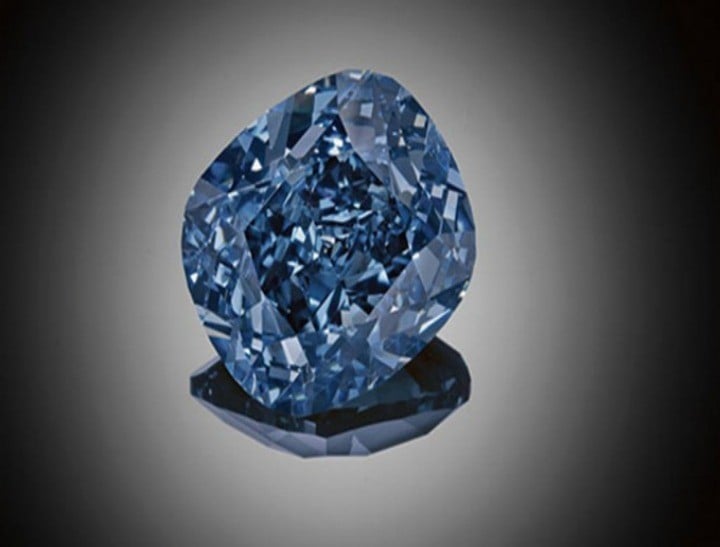 What did your dad get you when you were seven? A Barbie campervan? A Rainbow Sprite doll?
Well this Dad topped that – and then some.
A Hong Kong property tycoon has paid $48.5 million on a blue diamond as a gift to his daughter.
The sale at Sotheby's is the most ever paid for any jewel at auction, reports AP
Billionaire Joseph Lau immediately renamed the 12.03-carat gem the "Blue Moon of Josephine" in honour of his little girl.
Lau also bought $28.5 million pink diamond at Christie's for his daughter.
"Tonight we set a new world record, a new auction record for any diamond, any jewel, any gemstone, with the sale of the Blue Moon Diamond," says auctioneer David Bennett, who described it as "a magical stone."
Lucky Josephine.
Do you have a story to share with Mamamia? Email us [email protected]
[post_snippet id=324408]