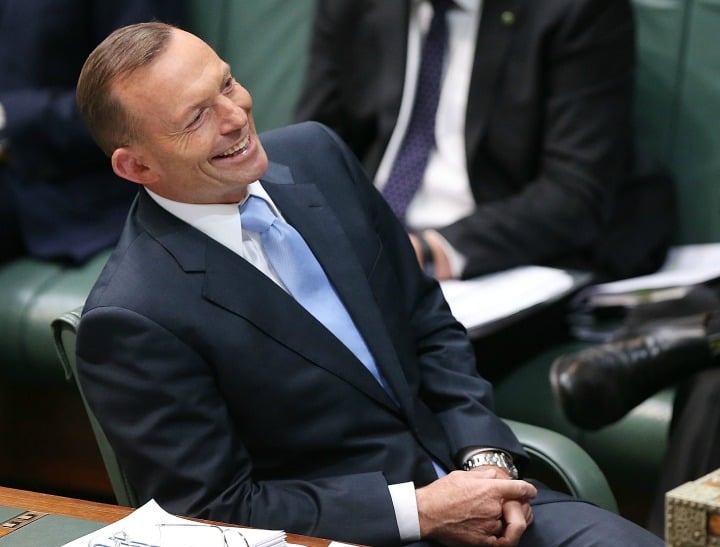 We've rounded up all the latest stories from Australia and around the world – so you don't have to go searching.

1. The Prime Minister has welcomed rising house prices.
On the same day that the head of Treasury expressed concerns about a developing housing bubble in Sydney, the PM has made his feelings as a home owner clear telling question time that he hopes house prices will rise.
"As someone who, along with the bank, owns a house in Sydney I do hope our housing prices are increasing," Tony Abbott said in question time yesterday.
"I want housing to be affordable but nevertheless, I also want house prices to be modestly increasing."
"The important thing is to ensure that our economy is as strong as possible so that people have as much resources at their disposal as possible, have jobs, so they can go out there and buy the things they need, including the housing that they need."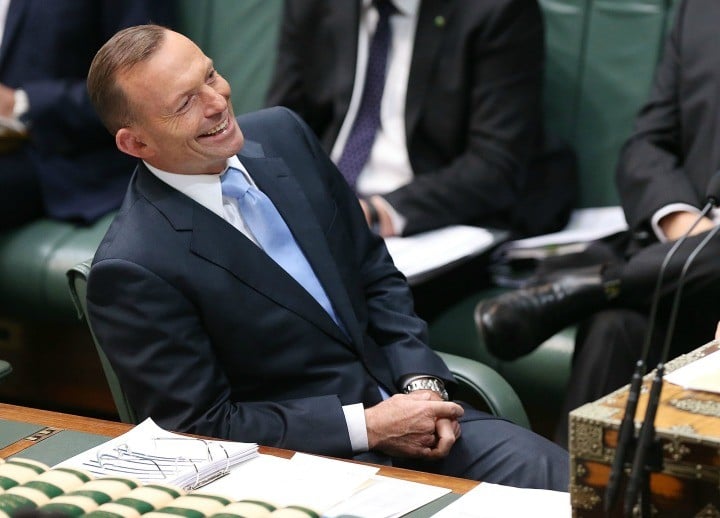 His comments came in response to a question posed by Bill Shorten in light of Treasury Secretary John Fraser's fears over the amount of money being poured into the housing market with interest rates so low.
Mr Fraser said he was concerned about the housing bubble in Sydney and the higher-priced end of the Melbourne market,
"It does worry me that the historically low level of interest rates are encouraging people to perhaps over invest in housing," Mr Fraser had said.
2. Cardinal George Pell to appear at Royal Commission.
The Royal Commission into Institutional Responses to Sexual Abuse has formally asked Cardinal George Pell to appear at the second stage of the Ballarat hearings.
In a statement the Royal Commission said they had formally asked Dr Pell to appear.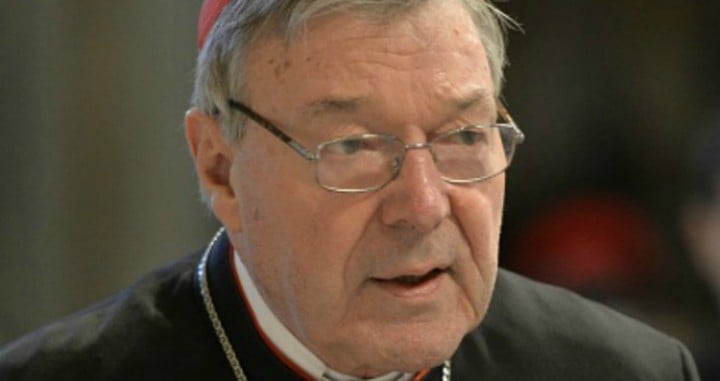 The appearance will be his third during the commission's hearings.
The Royal Commission statement said: "In the ordinary course, witnesses are summonsed to appear at a hearing,"
"However a person resident overseas cannot be summonsed.
"The chair has received a letter from Cardinal Pell indicating that he is prepared to come to Australia to give evidence.
"The royal commission will ask him to give evidence in the second of the Ballarat hearings."
Last week Dr Pell said in a written statement he would appear in person at the commission if required.
"Without wanting to pre-empt the Royal Commission in any way – you can't just invite yourself to give evidence – I want to make it absolutely clear that I am willing to give evidence should the Commission request this, be it by statement, appearance by video link, or by attending personally."

3. Growing support for same-sex marriage.
It looks like there might just be enough support in Federal Parliament to legalise same-sex marriage, if Coalition MPs get a free vote.
The ABC reports that Victorian Liberal MP Sarah Henderson is the latest to say she would vote for same-sex marriage if a free vote for Coalition MPs was allowed.
"I confirm that I support both marriage equality and a free vote for Coalition MPs," she said.
"I committed to consult broadly and then make my position known when the issue came before the party room.
Australian Marriage Equality's national director, Rodney Croome said the numbers might now mean a bill would now succeed.
"We may just have crossed the line into a majority, I'm not calling it yet but I think we're very close," he said.
Yesterday Opposition Leader Bill Shorten put a same-sex marriage bill to Parliament which is unlikely to be voted on until spring.
Coalition MP Warren Entsch is also working on a cross-party bill, which he hopes will go to a vote by the end of the year.
The Prime Minister, Tony Abbott has acknowledged legalising same-sex marriage is a "significant issue", but has made it clear his priority was parliament pass the budget's small business tax breaks.
The Opposition Leader Bill Shorten puts a same-sex marriage bill to Parliament. News continues after video. 
4. Telstra outage affects thousands.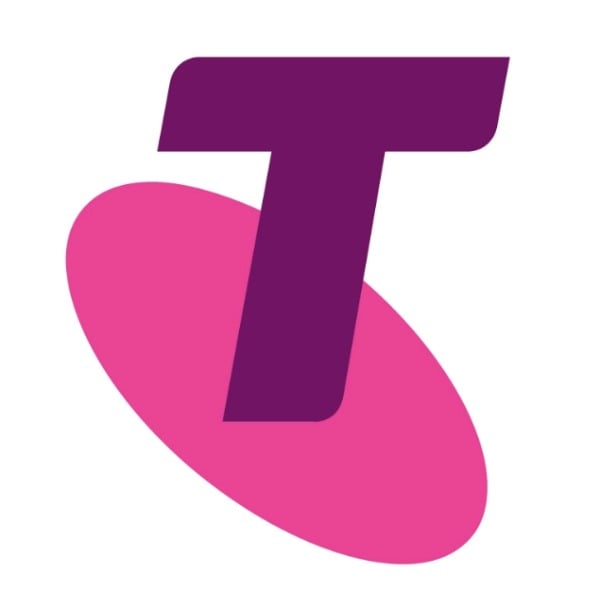 Thousands of customers across NSW and some parts of QLD are reporting widespread outages on the Telstra network.
Customers are being played a recorded voice message telling them the network is temporarily congested. Users say they are unable to make or receive phone calls.
Sky News reports that Telstra has said the issue has been caused by maintenance repairs which are taking longer than expected.
To see if your suburb has been affected click here.

5. Tributes have flowed in for Joan Kirner.
Australian politicians have put personal loyalties aside and paid tribute to Victoria's first and only female premier, Joan Kirner, who died yesterday.
Former Prime Minister Julia Gillard praised Ms Kirner's commitment to social justice.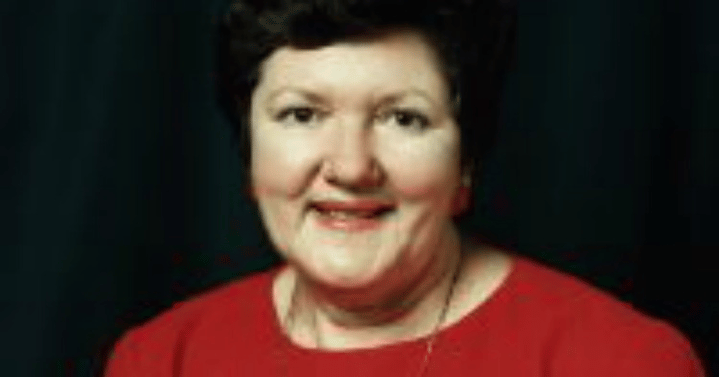 "For a generation of Labor women, including me, she was an inspiration and a mentor,"
"We admired her stoicism. We celebrated her policy achievements. We were guided by her wisdom."
Prime Minister Tony Abbott said Ms Kirner had left her mark on Victoria and Australia with her conservation initiatives and contributions to encourage women into politics.
For more on the remarkable Joan Kirner read this post here.

6.  Masa Vukotic's mother's heartbreak.
Natasa Celebic, the mother of 17-year-old Masa Vukotic who was stabbed in Doncaster just 500 metres from her family home in March has spoken of her heartache in a post on the page organising a march in honour of Masa.
Natasa Celebic posted on the Masa Vukotic March page on Facebook writing
"Thank you so much for organising the march in honour of my darling daughter Masa.
I hope that something will change with this as no one has the right to end any girl's life, dreams and plans just like my Masa had.
Unfortunately I can't offer any help in organising this event due to the fact that I am still weak in comprehending what has happened, but I will support it by joining in.
Big thank you from the bottom of my heart. God bless you."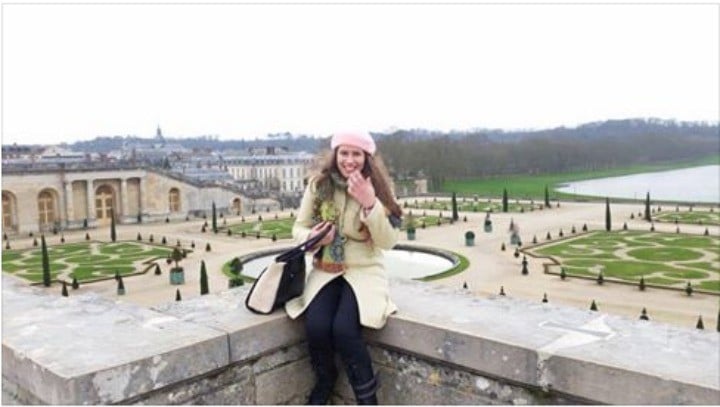 The march will take place across Melbourne on June 15.
Organisers have encouraged participants to wear pink.
"We want this to be an event that pays honour to Masa and encourages freedom for all of us from feeling unsafe" organisers have said.
"This is for Masa, other victims and for the future generations to come."

7. Peter Gardner's parents": "No one deserves to be executed."
The parents of a dual Australian-New Zealand citizen, Peter Gardner, who is facing the death penalty in China after Chinese customs staff allegedly found 30 kilograms of methamphetamines in a luggage scan, have told a New Zealand currents affairs show "No-one really deserves to die like that."
Gardner, 26, was caught alongside his Australian girlfriend, Kalynda Davis who was freed and allowed to return home to Australia.
Gardner's parents, Russell Gardner and Sandy Cornelius, said that Peter had been duped into being a drug mule by a gang who he met through body-building.
They said he had been forced to smuggle body-enhancing peptides into Australia in September after he got into debt with the gang, believed to be linked to the Chinese organised crime group the Triads.
Gardner told his mother the gang would kill him if he did not pay off his debt.
Gardner has said that he believed once again he would be smuggling peptides and was unaware that the package handed to him by two Chinese men at his Hilton Hotel in Guangzhou was methamphetamine.

8. Australia turned back 65 people on a boat.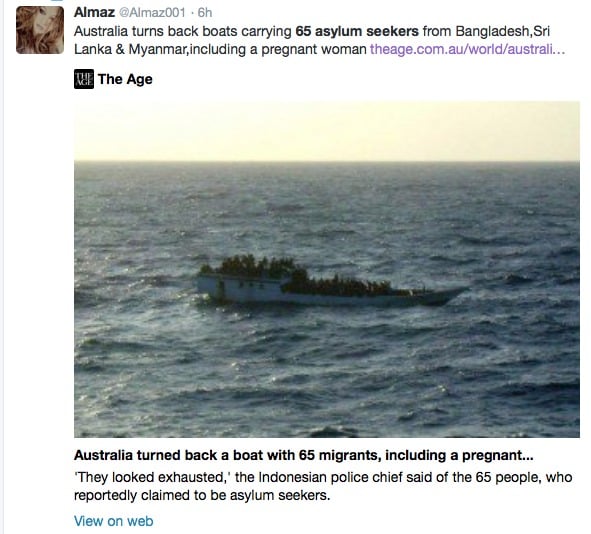 Australian customs have turned back a boatload of asylum-seekers from Bangladesh, Myanmar and Sri Lanka who were bound for New Zealand according to Indonesian police.
Sixty-five people, including a pregnant woman and three toddlers were intercepted by the Australian navy and had since come ashore, said Hidayat, a police official on Rote Island in Indonesia's east.
"According to their testimony, they were pushed back by the Australian navy and immigration after they were interrogated,"
"They said they were on their way to New Zealand."
He said, "They looked exhausted,"
"One female passenger is pregnant – we took her immediately to the hospital but she is ok now."
The group were spotted by local residents on Sunday near a beach after their boat sank reports The Australian.
Fairfax Media write that migrants had been caught by Australian customs on May 26, put in two blue and white boats, and sent back into Indonesian waters.
"The Australians provided them with food, drinks and sufficient fuel to reach Indonesian land," Mr Hidayat said.

9. Teenage girls seeking treatment for injuries from rough sex.
Doctors have told of how teenage girls are increasingly seeking treatment for injuries sustained during "rough sex".
According to Susan McLean, a federal government cyber-safety adviser young people are being pressured into having sex in ways similar to pornography they view online.
The Australian reports that young men are watching pornography depicting scenes of rape, bondage, torture and bestiality and expecting their teenage partners to carry out the acts.
"I've had GPs tell me about the injuries they are seeing in young girls when they have been forced or coerced to do what is in porn videos,'' Susan McLean said.
"They're not watching anything within a circle of normality — they're looking at rape, bondage, torture and bestiality. The girls in the videos all appear to like it, so girls think that's just how sex is.''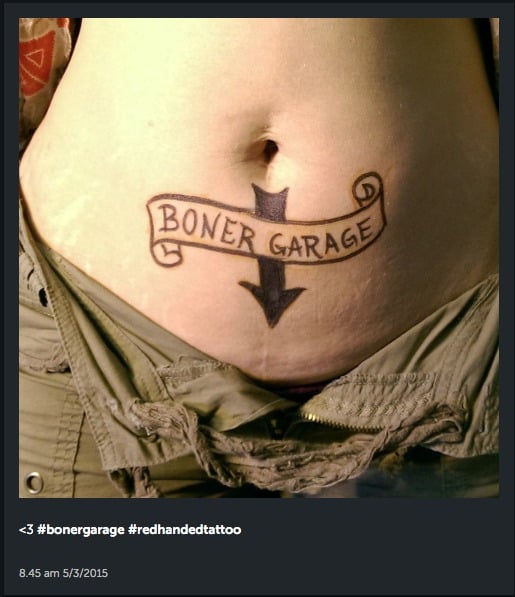 Dr Carr-Gregg told The Australian that online pornography was skewing the way teenagers viewed sex, love and intimacy. "Boys see girls as sexual service stations for their pleasure,''
"It's shocking; I'm seeing it virtually every single time I have a clinic. Their idea of sex is porn sex — it's a terrible distortion of one of the most precious and important parts of their lives, which is love and intimacy.'

10. The flu season hits us hard.
Just a quick glance around your office or the school playground and you will see what experts have just confirmed – this flu season is a shocker.
According to reports the flu season has struck earlier than usual, and is being reported at higher levels.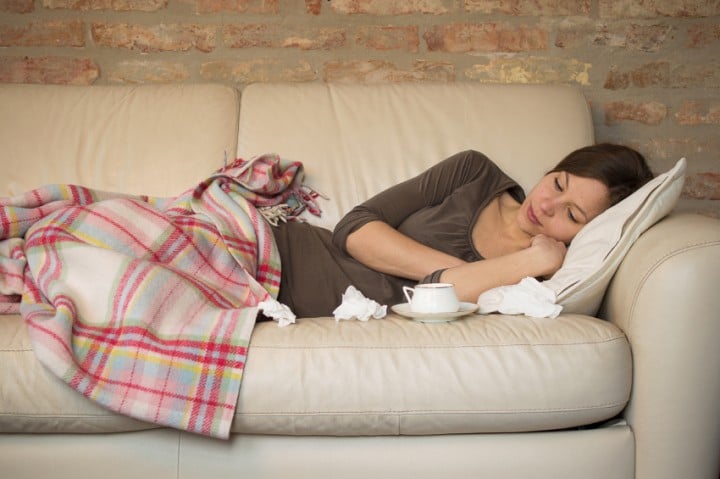 Statistics into the national GP influenza surveillance network have shown that diagnosis of the flu increased dramatically in the last two weeks of May with 20 per cent of patient swabs collected by GPs testing positive for influenza.
News Limited reports that this compares to just 1 per cent of swabs testing positive at the same time last year.
University of Adelaide's Professor Nigel Stocks told News Limited "historically, when the flu season starts early, it will be a particularly bad season,"
The roll out of the free flu vaccine was delayed by a month this year after a problem with supplies of the vaccine.
Doctors say if you haven't been vaccinated now is the time to do it.

11. Australian paedophile Peter Scully in court.
Warning: This item contains details that might be disturbing for some readers.
Australian paedophile Peter Scully will face a Philippines court today to enter a plea on paedophilia charges.
Scully, aged 51 is said to have run an international paedophile ring from Mindanao in the Southern Philippines. It is alleged that Scully raped, tortured and murdered children in his lucrative business live-streaming videos in a 'pay for view' scheme.
One victim was only 18 months old.
The ABC spoke to one of the lead investigators who helped catch Scully. He told 7.30:
"In one of these videos was an 18-month-old baby girl who was hanged upside down," he said.

"She was crying all the time she was being tortured."

One made-to-order video proved to be Scully's undoing reported the ABC.

"In it, two girls, one 12 years old and the other 13, were forced to dig their own graves while being raped.

Mr Magno said the girls eventually led them to Scully.

"The two girls were able to escape and seek police assistance while they were still wearing chains, chains to their necks," he said."
Scully was arrested in the Philippines in February and charged with sexually abusing 11 children.
For support 24/7, call 1800 RESPECT (1800 737 732). 
12. Lion kills American woman in South Africa.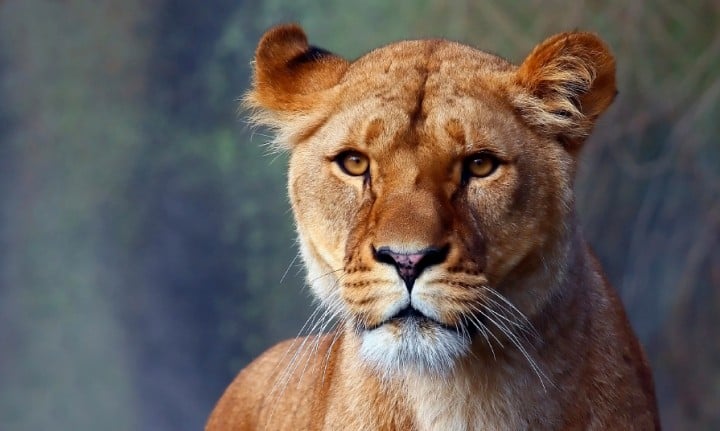 An American woman has been tragically killed by a lion as a tour guide drove her around a South African animal enclosure.
The lioness jumped through the open window of her car and started to bite her.
"The lioness approached from the passenger side and bit the lady through the window," said Scott Simpson, the assistant operations manager at Lion Park, an open-air facility north of Johannesburg.
The driver, a tour guide, was badly injured trying to free the woman from the animal's grasp.
Paramedics were called to the scene but she died from her injuries. Her partner, who was also in the car, is receiving treatment.
It is not known whether the animal will have to be put down, but officials say she is being kept in a separate enclosure.
Do you have a story to share with Mamamia? Email us [email protected]