Shopping as a plus-size woman isn't always the easiest thing. You want to find fits and threads that are current, fun and yet still timeless - but it's a little tricky when many brands still stop at a size 14.  
To make it even harder, I've recently added 'ethical' to my list of requirements. I really only want to support brands that I know are doing the right thing, which sadly means I've parted ways with some fast fashion favourites.  
However, I've slowly built up a list of size-inclusive and ethical brands, and it would simply be rude not to share them! Here are my current faves.
Frida Las Vegas.
Frida Las Vegas is a brand with a pretty big cult following. All of designer Frida's clothes are pop art-inspired and gender and size-inclusive. They are also designed and made locally. You've probably spotted her designs worn by contestants on Ru Paul's Drag Race. I'm a huge fan.  
As well as the loudness and fabulousness of her prints, the cuts she makes are super wearable and fun - from kaftans to 'Glamour Sacks' and maxi dresses. These are all flattering and easy throw-on dresses for instant wow factor, and the label goes up to a size 26.
My favourite thing about Frida's designs is that they are conversation starters and an instant mood booster!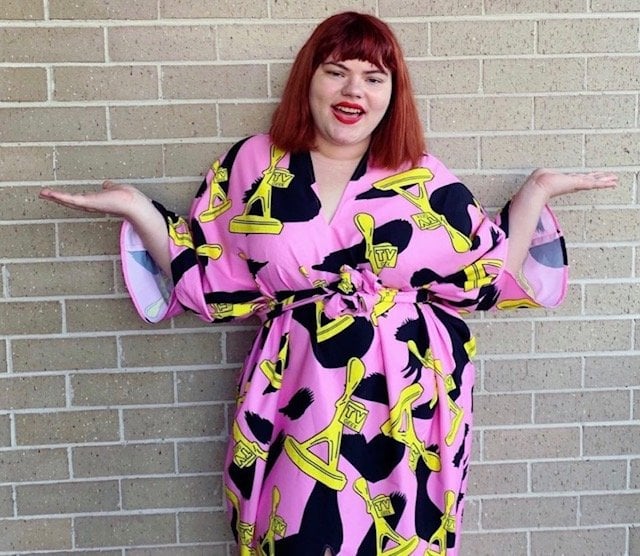 Mary wearing Frida Las Vegas. Image: Supplied. 
Edgeley.
Edgeley is a daring brand by designer Alice Edgeley. She's based in Melbourne, and she makes everything herself; talk about slow fashion! She blends modern with an almost showgirl look. She's famous for her limited edition collections that often feature an incredible print, as well as her super flattering designs.