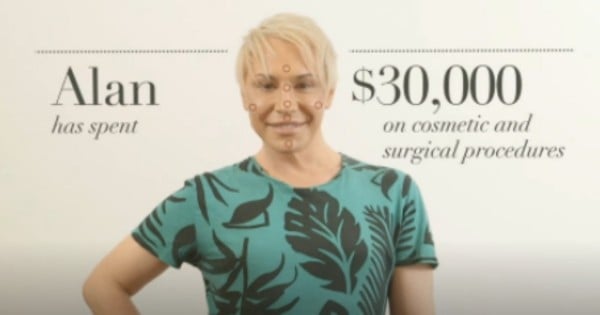 Is plastic the new normal?
A 21-year-old fashionista, a high-profile sex worker and mother of two, and a 39-year-old art director from Sydney have all proudly come forward as Australia's (unmoving) faces of the 'Plastic Positive' movement.
And if you ask them, they would say yes.
With our country stepping up to embrace plastic surgery like never before – to the tune of around $1 billion –  a group of cosmetic enhancement fanatics are pushing the envelope to see just how far they can go.
With massively bloated lips, frozen faces, and breasts the size of watermelons; these people aren't interested in a few natural looking tweaks – they're plastic, and proud of it!
SBS's 'The Feed' sat down with several devotees of the 'Plastic Positive' movement to find out…um, why?
Rita Abdou, 21.
At just 21, Rita is the youngest of the group – but she's already been at it for six years, having her first lip filler aged just 15.
She is originally from Kuwait and works as a visual merchandiser; a job which has somehow bankrolled the staggering $15,000 she has spent to date on her botox and fillers.
"I would say I consider myself an extreme beauty achiever," she says proudly.
"My plastic positive journey started when I was 15, when I was told I had really small lips… so that was kind of my, oh, I'd love if I could fix my top lip a bit."
Rita thinks that what she was born with was 'some else's idea of beauty' – and so is working to create a face that she is happy with.