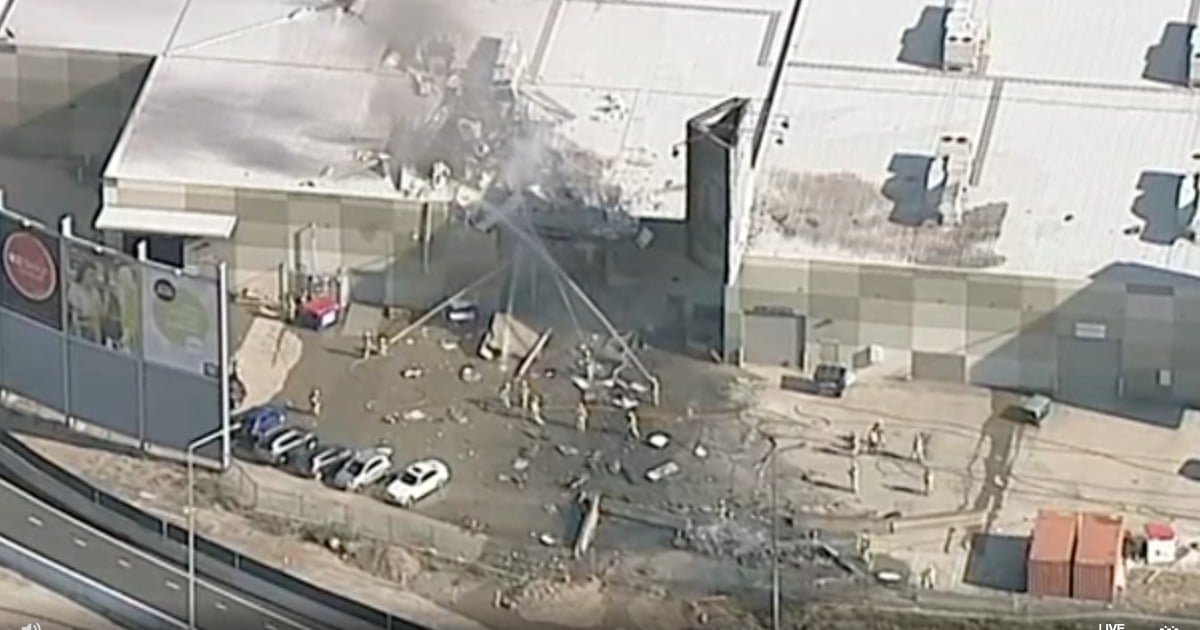 Five people have died as a result of Victoria's worst civil aviation accident in 30 years, after a plane crashed into a shopping centre near Melbourne's Essendon Airport, authorities say.
Witnesses described seeing the plane erupt into a "massive fireball" after it smashed into the DFO centre just after 9:00am.
Victorian Fire Services Commissioner Craig Lapsley said five people were on board and none had survived the crash.
"At this stage, the advice we have is there are no fatalities other than on the aircraft itself," he said.
Key points:
A charter plan crashed into the back of shops, killing all five people on board
Workers were in the building at the time, but all are believed to have survived
Witnesses saw the plane flying "fast and low" before the crash
The plane called mayday as it was taking off and Victoria Police Superintendent Mick Frewen said it appeared to be affected by a "catastrophic engine failure".
The plane crashed into the back of two shops, Focus on Furniture and JB Hi Fi, he said.
A spokeswoman for the outlet's Spotlight store said part of that store's warehouse and dispatch area was also hit.
Twenty staff were in the building, but none were injured and all had been offered counselling, she said.
Victorian Premier Daniel Andrews said it was a "desperately sad day" for the state.
"A number of people have died," he said.
"We are currently reaching out to their families to provide them with the support that they need to try to comfort them at what must be just such a horrible moment.
"Beyond that, there are a number of people who witnessed this terrible accident and they have been given the support, the psychological first aid that they need by Ambulance Victoria."
Earlier, a State Government spokesperson said a Beechcraft charter flight that was travelling to King Island crashed soon after take-off.
The Australian Transportation Safety Board (ATSB) said it had deployed a team of four investigators to the scene.
Michael Howard, 29, was at his plumbing job when he saw a "blue flash" come down over the DFO billboard.
"I was talking to one of the boys and I was just looking out the window towards that way and then all of a sudden I just saw a blue flash come down and then all of a sudden there was a massive fireball," he said.
"[I thought] what the hell? That doesn't happen every day. Yeah it was crazy, it was like something from a movie."
Adelaide man Jason told ABC Radio Melbourne he was in a taxi and saw the plane coming in low and fast.
"The plane was coming way, way fast. I thought that's faster than normal," he said.
"It looked like it hit the building, there was a massive fireball, I could feel the heat through the window.
"Then a wheel, it looked like a plane wheel, bounced on the road."