When it comes to high school newspapers, these six kids just scored the scoop of the century.
The student reporters at Pittsburg High School in Kansas dug into the history of their new principal, Amy Robertson. Due to what they found, she resigned from the job.
The teacher in charge of the school newspaper, Emily Smith, says she's very proud of her students.
"They worked very hard to uncover the truth," she told The Kansas City Star.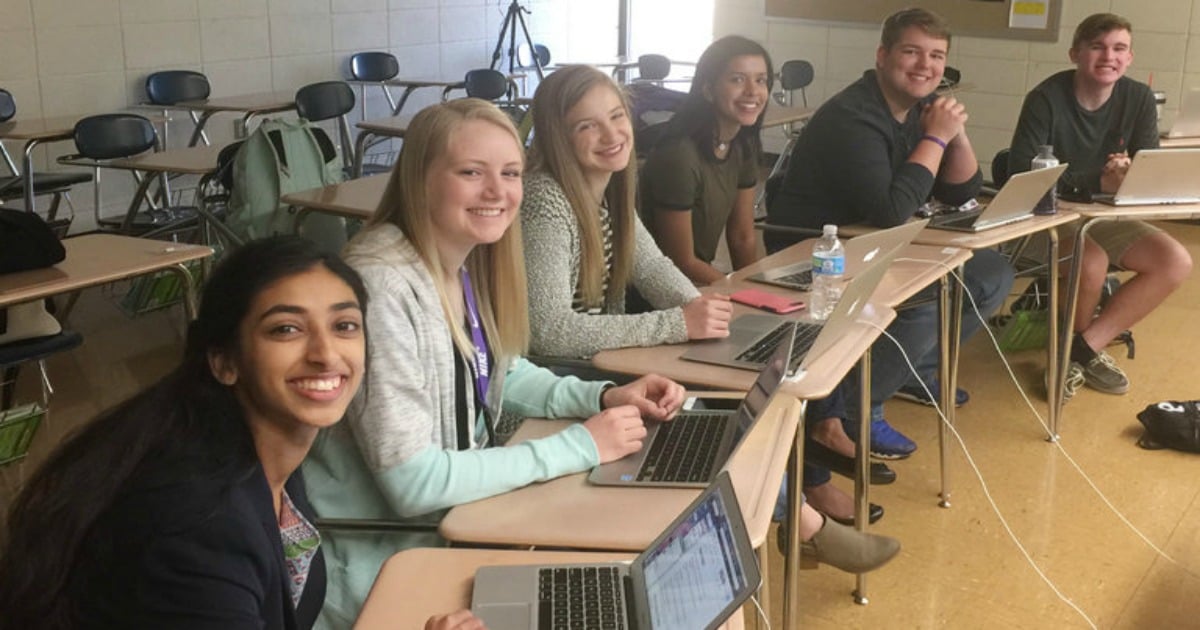 Robertson was appointed as principal on March 6. Maddie Baden, one of the student reporters, interviewed her for a routine "meet the new principal" story. Robertson had previously been working in Dubai.
The students googled Robertson, and up popped some articles about an English language school in Dubai. The school's licence had been suspended, and Robertson had been accused of not being authorised to serve as principal.
"That raised a red flag," Baden says.
The students tried to research Corllins University, the institution where Robertson claimed to have earned her masters degree and her doctorate. But the university's website didn't work. They found out Corllins wasn't accredited, and had a reputation as a "diploma mill" – where people could buy degrees.
"At the very beginning it was a little bit exciting," student reporter Connor Balthazor told The Washington Post. "It was like in the movies, a big city journalist chasing down a lead."
The students spent weeks researching the story, some even working through spring break. They sought advice from journalists outside the school.
Under Kansas law, high school journalists have special protection.
"The kids are treated as professionals," Smith says.
The students set up a conference call with Robertson, to ask her some questions. They say she "presented incomplete answers, conflicting dates and inconsistencies in her responses". (Post continues after audio.)
The article on Robertson appeared in the student newspaper, the Booster Redux, last Friday.
On Tuesday, the Pittsburg Community Schools Board of Education held a special meeting. It's believed Robertson wasn't able to present proof of her undergraduate degree from the University of Tulsa.
"In light of the issues that arose, Amy Robertson felt it was in the best interest of the district to resign her position," superintendent Destry Brown said in a statement.
Since news of the resignation broke, high-profile national journalists have been praising the kids from Kansas.
David Fahrenthold from The Washington Post tweeted admiringly about the "badass reporters".
Meanwhile, Todd Wallack from the Boston Globe's famous Spotlight Team also praised them in a tweet: "Great investigative work by high school journalists."
Badass reporters from @PHSstudentPub in KS find their new principal claims degrees from univ. that may not exist. https://t.co/1g9C2i5PS1

— David Fahrenthold (@Fahrenthold) April 5, 2017
Smith says it wasn't easy for the students to question authority.
"Everybody kept telling them, 'Stop poking your nose where it doesn't belong,'" she says.
But they persisted, because they knew that something wasn't right.
"They were at a loss that something that was so easy for them to see was waiting to be noticed by adults," Smith adds.
Smith told Mamamia the overwhelming support had been amazing.
"None of us expected any of this," she said.
"I am so proud of how the students handled themselves throughout this entire experience. They were true professionals and were simply reporting the truth and verified every fact."