Last month, Pippa Middleton married hedge fund manager James Matthews in arguably the wedding of the year.
But just a few weeks later, some people think the 33-year-old is trying to hog the spotlight.
Attending a friends' wedding in Sweden over the weekend, Middleton is being accused of attempting to upstage the bride by committing the ultimate wedding guest no-no.
Love this @erdem dress ..of #PippaMiddleton @balpreetkaur50 @Steff_thom @loveforcambridg @TheRegalLook pic.twitter.com/TNmHIKzdef

— Sukhpreet Kaur (@sukhpreetkaur30) June 11, 2017
It's a similar "mistake" to the one Meghan Markle made at her own wedding.
She wore white.
On the surface, it doesn't sound great. While the 'rule' refers to a wedding tradition which sees the virginal colour strictly reserved for brides (which many are in fact shirking) it seems fair to play it safe and wear one of the many hundreds of other colours for the one day.
Listen: Vogue has named the wedding trends that are over for 2017. Post continues after audio.
But you might need your binoculars to work out exactly what Middleton did wrong.
Alright yes, there is SOME white on her her silk Erdem Convertine Rose Kenzie Gown (currently on sale for a breezy $3213.83, FYI) but it's definitely not the most dominant colour.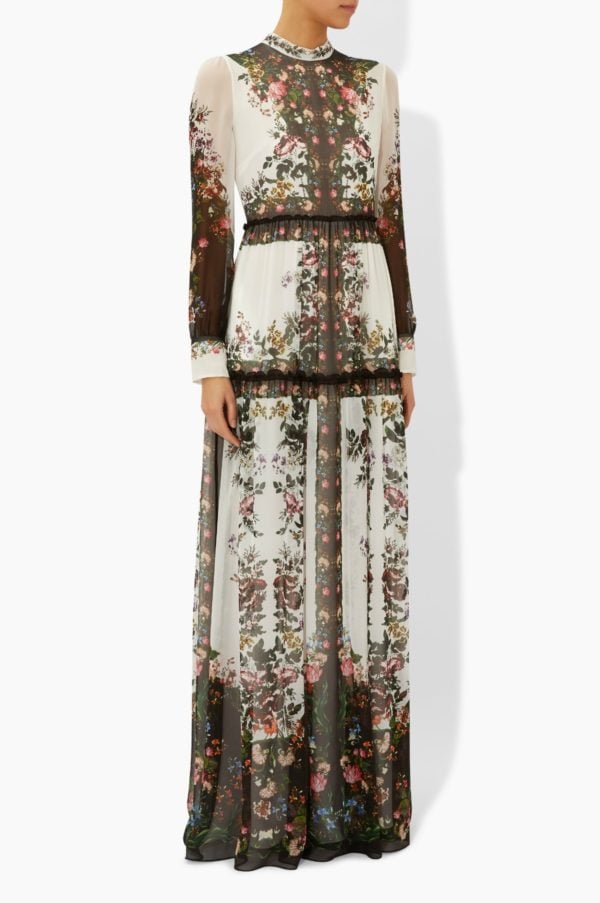 In fact, far from a faux pas Middleton may have actually just nailed tricky spring/summer wedding dressing. It's floaty (read: comfortable), a bit bohemian (not stuffy) and has a long skirt made for swirling (or is that just me?).
Judging by her husband's white tie, the dress code was likely white tie - the most formal. Therefore her high-necked, long-sleeved, floor-length gown ticks all the boxes.
Outfit Details On The Blog: Pippa Middleton Matthews wears @erdem for wedding in Sweden https://t.co/qu5T9o0Jsa #PippaMiddleton pic.twitter.com/5o0iEHpgga

— Middleton Maven (@MiddletonMaven) June 11, 2017
If Middleton is copping the heat for "upstaging the bride", then Matthews - and all other men in attendance - should probably get the same for *daring* to wear the same outfit as the groom.
Given the couple reportedly cut their honeymoon short to attend the Stockholm nuptials of friends Jöns Bartholdson and Anna Ridderstad, it's safe to say it was not their intention.
Bartholdson is a good friend of Middleton, with the pair completing a 50 mile endurance race together in 2015 to celebrate her 32nd birthday and raise money for the Michael Matthews Foundation.
Do you think it's ok to wear white to a wedding?