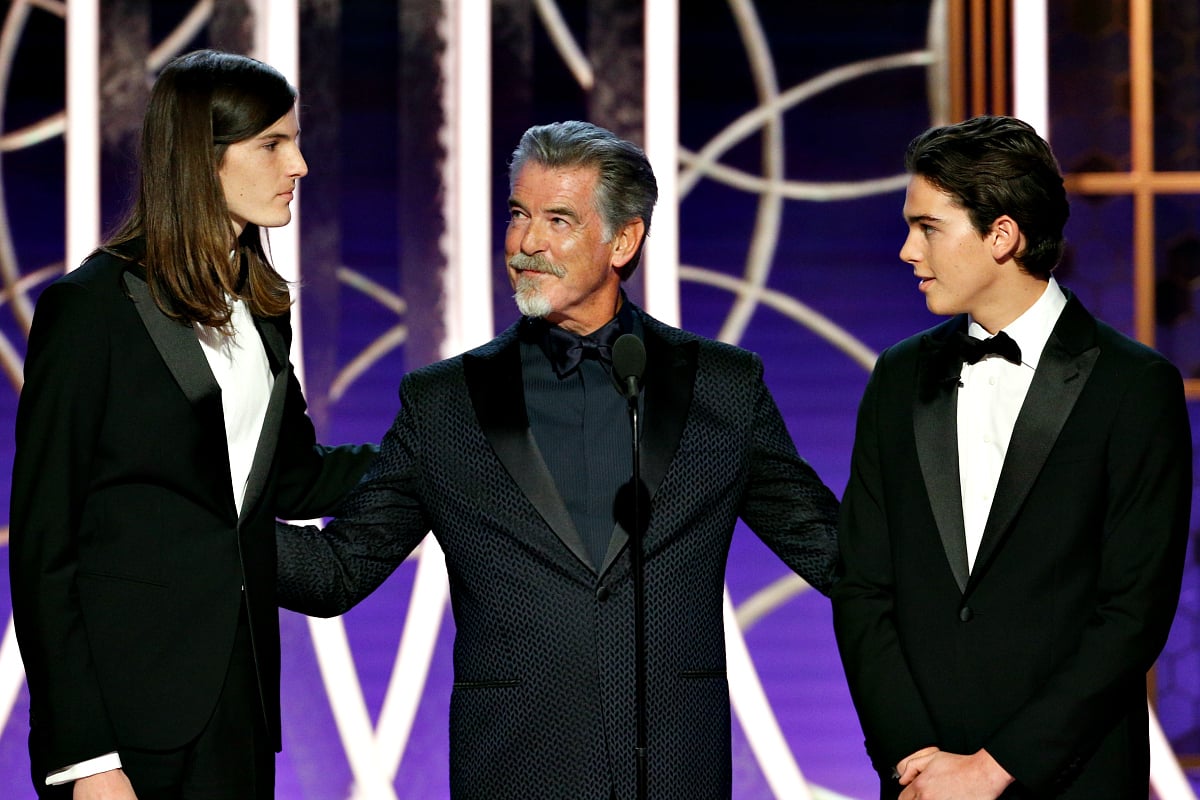 In 2020, the responsibility of shuffling Hollywood elite across the Golden Globes stage fell to two young men. Paris Brosnan, 22, and Dylan Brosnan, 18, the sons of former James Bond actor, Pierce.
The pair are currently both models and in film school, with the hopes of following their famous father into the entertainment industry. And by serving as ambassadors for Monday's awards, they found themselves with a worldwide audience of millions.
Watch: Pierce Brosnan with his sons on the Golden Globes red carpet. Post continues after video.

Standing shoulder-to-suited-shoulder alongside his sons on the red carpet ahead of the ceremony, the 66-year-old described their role as "a great honour" and swelled with pride as he spoke about their ambitions to be filmmakers.
Another peak, it seems, in what has been an undeniably turbulent life for the Hollywood star.
Pierce Brosnan's unlikely backstory.
Pierce Brosnan grew up with a different-shaped family than most. The James Bond star's carpenter father left when he was an infant; his mother, a nurse, moved from Ireland to London to find work when he was four, and would visit him maybe once or twice a year. To young Pierce, home was with his extended family and then in a boarding house.
But when he was in his late 20s, fresh out of drama school, he was welcomed into another family; that of his first wife, Australian actor Cassandra Harris.
In marrying her in 1980, the actor became not only a husband, but a father to her two teenage children. Pierce even formally adopted Chris, then 14, and Charlotte, 15, after their father, producer Dermot Harris, died in 1986.
"We just clicked as a family," Pierce told Express back in 2013. "To begin with I was Pierce, then I was Daddy Pierce, and then I just became Dad. Charlotte and Chris have just been amazing in my life."
But in 1991, cancer reshaped that new family. And not for the last time.