A father in the UK has said his daughters were made to feel like criminals by a police officer after picking flowers from council land for their mum on Mother's Day (yesterday was Mother's Day in the UK).
David Taylor's two daughters – 10-year-old Rosemary and five-year-old Emily – had each picked a bunch of daffodils from a roadside in the city of Nottingham when they were approached by a police officer.
In the UK, it is reportedly illegal to pick flowers from council-maintained parks, roundabouts or verges.
"I had told the girls not to pick too many, and they had about a handful. We turned around to go back to the car and a police officer was standing there and said we shouldn't be doing that," he told the Nottingham Post.
"I said I understood where she was coming from, but there are hundreds by the side of the road down there."
Family is life. The rest is just lovely cream on top. Post continues…

The carpenter father told how the council worker confiscated the flowers. He said he has always taught his girls to respect authorities but found himself "rattled" by the experience.
"She [the police officer] took the flowers from the girls and it upset them," Taylor said. "I have always taught my girls to respect the laws, and for the sake of picking flowers I now have to explain to my kids that what they did was wrong."
"I feel like it could have been dealt with a bit better – with some common sense," he continued. "She gave me a telling off, which I understand, but the flowers had already been picked so I don't see why she had to take them from the girls."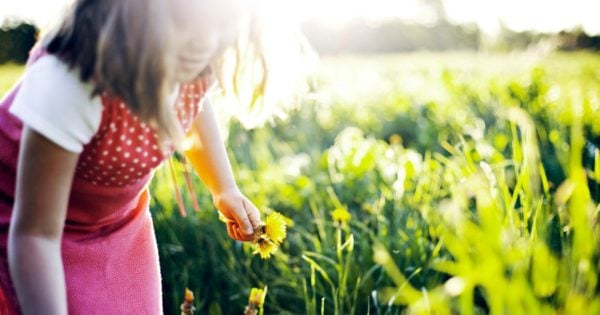 A statement from Nottinghamshire Police said the police officer did not take the issue further after confiscating the flowers.
"The officer provided the family with some advice about picking flowers and the matter was not taken any further," a spokesperson said. "A bunch of 27 flowers were taken to a nearby care home so they did not go to waste."
Amy on being a mum AND a ballerina. Post continues...

As for the Taylor family's Mother's Day?
"It has ruined Mother's Day," Taylor said. "The kids are just kids so they will get over it - it's just really rattled me that she took that attitude."