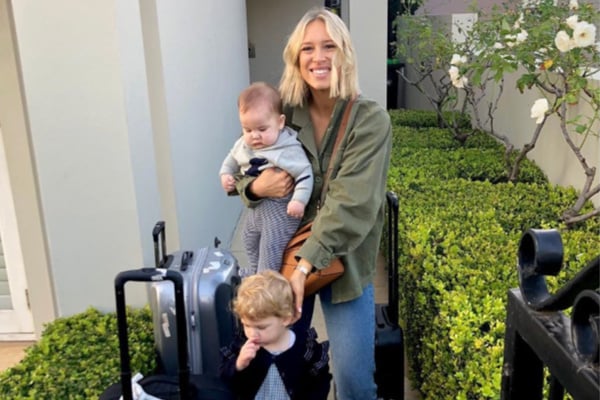 When you scroll through Phoebe Burgess' Instagram, you'll be met with a beautifully curated page of glamorous photos of the writer and TV presenter living what very much looks like a charmed life.
But amongst the photos of her fabulous outfits in fabulous locales (she loves fashion, she always has) are the pictures of the people she loves most in the world, her two children with rugby league star Sam Burgess – Poppy, two and a half, and Billy, whom she welcomed in December last year.
And if you take the time to read her captions, you'll see that despite the outward appearance that the mum-of-two has this parenting thing all figured out, she won't shy away from sharing the truth of what life is really like as a mum of children under three.
Behind the photos of her two "cleanish kids", she'll let her 80K followers know that it took "hours of preparation" just to get out the door with her children in tow. Or that in reality, she and the kids are looking a "lot less glam at home". Or that just after a lovely family photo was taken, Poppy "painted the back of the car, her new clothes and everything within a one metre radius with her lunch".
It's a reminder to all mums, especially on Instagram, that the perfect life presented by so many on social media simply isn't real.
"No matter how you're dressed, no matter what you're doing, we're all dealing with the shit. Physically, we're dealing with shit as a mum," Phoebe tells Mamamia, with a laugh.