A Queensland mother is petitioning to reduce parking costs at the Brisbane children's hospital where she regularly takes her three-year-old son who suffers from a life-threatening disease.
Kat McGowan's son, Patrick Ryan, lives with haemophilia, an incurable and life-threatening blood clotting disorder that requires regular hospital treatment.
For each visit to Lady Cilento Children's Hospital, parking for the first 30 minutes is free. Beyond that, however, prices climb from $12 for an hour's visit to $30 for a multi-exit day pass. Parking at the hospital is offered through Mater Health Services.
The cost can add up quickly, which is why McGowan has launched a campaign to reduce the price of parking at the hospital.
"I am lucky. My son's condition is rarely life-threatening," she wrote on Change.org. "But families have little choice but to park in the carpark and pay excessive fees. Visitors must either pay or not come at all."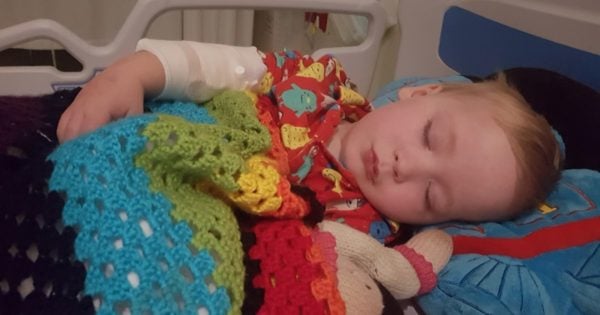 According to the Mater Health Services website, all parking proceeds support Mater patient care. But McGowan argues that the rates are too expensive for families like hers.
"In a given year, we could be in hospital 10-20 times, for days or weeks," McGowan posted to Change.org. "In addition to his admissions, we visit the hospital to collect medication, for clinic appointments and for post-admission follow-ups."
What to do for a parent with a child in hospital. Post continues below.

McGowan worries that her son's friends will be discouraged from visiting because of the price of parking.
"On-street parking is hardly a solution, as it is notoriously hard to find, and often too far for grandparents or other little legs," she wrote. "As he grows, we worry that friends will be unable to visit him, due to the prohibitive cost of parking."
She pleaded: "Stop capitalising on families' misfortune. Stop profiting from their children's illness. Show compassion for those who have trials enough."
The Change.org petition currently has more than 3,000 supporters with a goal of 5,000. McGowan says she plans to deliver it to Minister for Health Cameron Dick, as well as Mater Health Services carpark management.