A former lawyer has spoken out against the conviction of murderer Bradley Murdoch, who is serving a 28-year jail sentence for the murder of British backpacker Peter Falconio in the Northern Territory in 2001.
In this week's The Project, former criminal lawyer Andrew Fraser said Murdoch "had not had a fair go". Fraser, alongside DNA expert Professor Barry Boettcher, claimed there were inconsistencies in the case for his guilt.
It was July 2001 and 28-year-old Falconio was driving through outback Australia in a beat-up Kombi van with his girlfriend, also from the UK, 27-year-old Joanne Lees.
Just out of Alice Springs they were flagged down by a man who looked like he needed help. His car's hazard lights were flashing. His ute must have been broken down.
Falconio got out of the car to help the man. Lees heard words like 'exhaust pipe'. Then, she heard what sounded like a gunshot. She didn't know it yet, but her boyfriend had just been executed.
She was sitting the Kombi's cabin, not sure what she'd just witnessed, when Murdoch approached her door holding a silver revolver. He dragged her out of the car. Pushed her to the ground and tied her hands together. He also tried to cuff her ankles and tape her mouth shut. He put her in the tray of the ute and it was only because he went to check on Falconio's body that Lees was able to escape.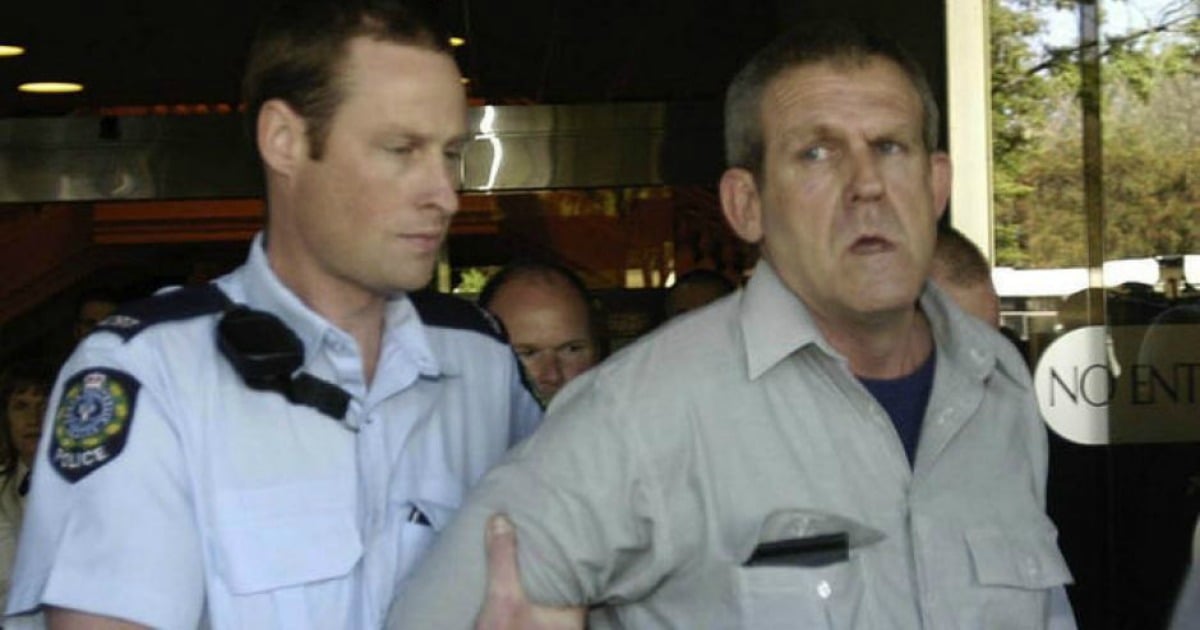 She hid in the saltbush on the edge of the Stuart Highway for five hours, as Murdoch and his dog searched for her. She heard what she thought was the attacker's vehicle move off, still she didn't move. She thought he would come back and she heard footsteps through the brush shortly after. She stayed where she was until around 2am when she flagged down a passing road train.
That was only the beginning of her journey.
She wasn't expecting people would presume she was involved in her partner's death. Even after Murdoch - a mechanic from Broome - was tried and convicted in 2005, Lees could not escape scrutiny.
Inside Australia's most chilling murders. Post continues below.

Even now, 16 years after Falconio's murder, people aren't convinced of Murdoch's guilt.
Even though Murdoch's DNA was found on Lees' tee-shirt and the Kombi's gear stick. Even though her hair tie was discovered in his possessions. People still doubt Lees' testimony and question the evidence that lead to Murdoch's conviction.
Last night on Channel 10 Fraser said there was "hole after hole" in Lees' story. So much so, he claimed, that Murdoch might be innocent.
Reporter @hughriminton brings us part two in his Falconio murder investigation. #TheProjectTV pic.twitter.com/zBCBiofi5m

— #TheProjectTV (@theprojecttv) March 28, 2017
Fraser is an ex-lawyer who had his license revoked after he was jailed for five years on drug charges. He has been studying the Falconio case for eight years and believes the crime scene was fabricated, something he says is made more plausible by the fact Falconio's body has never been found.
"There is no flesh, there is no bone, there is no part of a projectile, there is nothing there that indicates a firearm has been discharged at that scene," he said.
As well as Fraser, The Project also interviewed DNA expert Professor Boettcher who played a key role in getting the Lindy Chamberlain case overturned after the mother was wrongly convicted of killing her baby.
On the Falconio case, Boettcher said: "I have had a sense of unease from the beginning and continue to have that unease today."
.@hughriminton: "Lawyers told me, 100 times out of 100, a jury would convict it." #TheProjectTV pic.twitter.com/BVTh0vDooZ

— #TheProjectTV (@theprojecttv) March 28, 2017
Last year, a 43-year-old Lees returned to the Australian outback on a mission to bring her former lover home.
"I didn't want to be living in England in my old age, thinking I could have done more... to find Pete. He's just not had anything. He's not been able to be buried, to be returned to the UK to have a funeral," she told 60 Minutes while in Australia.
She also spoke about the night she lost her partner and almost lost her own life.
"I just felt the isolation that I was completely alone. I was screaming for Pete to come and help me, he didn't return. Now I realise that Peter had already lost his life but I didn't want to accept that," she recalled. "For me there was no choice. It was either run or be raped and killed."
Former police officer John Daulby, who was involved in the Falconio case, told The Project he has "no doubt whatsoever" in Lees' version of events.
Any inconsistencies in her story, he said, could be put down to the trauma she suffered at the hands of Falconio's murderer: Bradley John Murdoch.