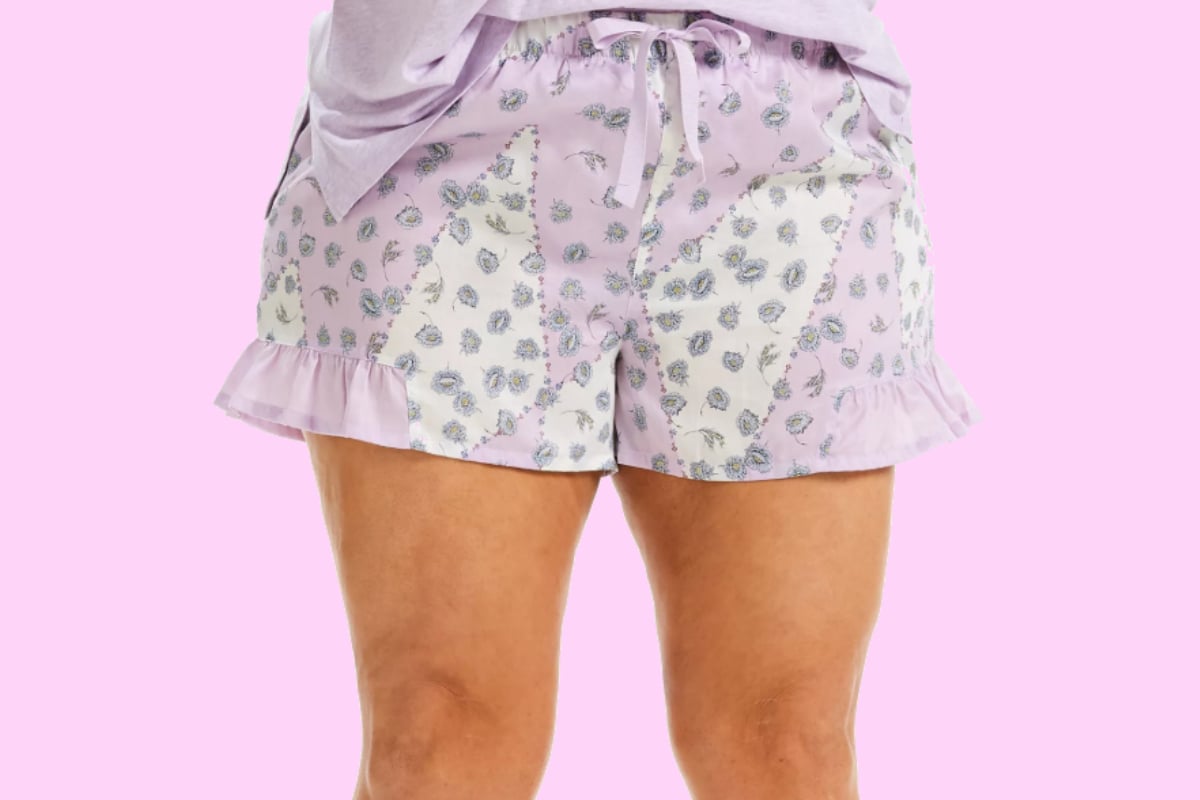 I first saw them one night earlier this week, deep in a mindless social media hole while also simultaneously watching Netflix in bed.
They made my finger stop. I couldn't scroll past them.
I'm talking about the marketing images on iconic Australian pyjama brand Peter Alexander's website in the Plus Size section.
Specifically, images of women wearing pyjama shorts.
Ginger bread shorts, colourful baggy boxer shorts, silky shorts with lace trimming and shorts with puppy dogs on them.
Peter Alexander has been making 'plus size' pyjamas since 2016, but these images are new to me. I haven't been able to stop thinking about them.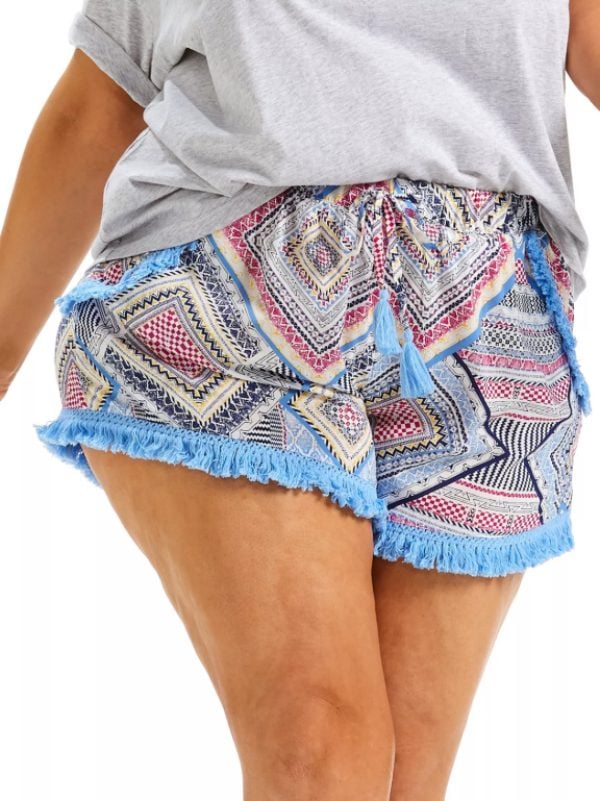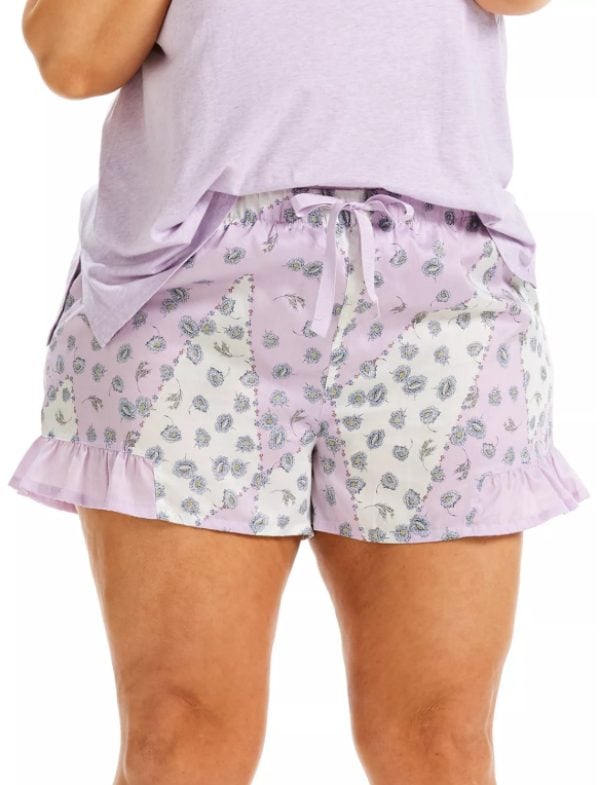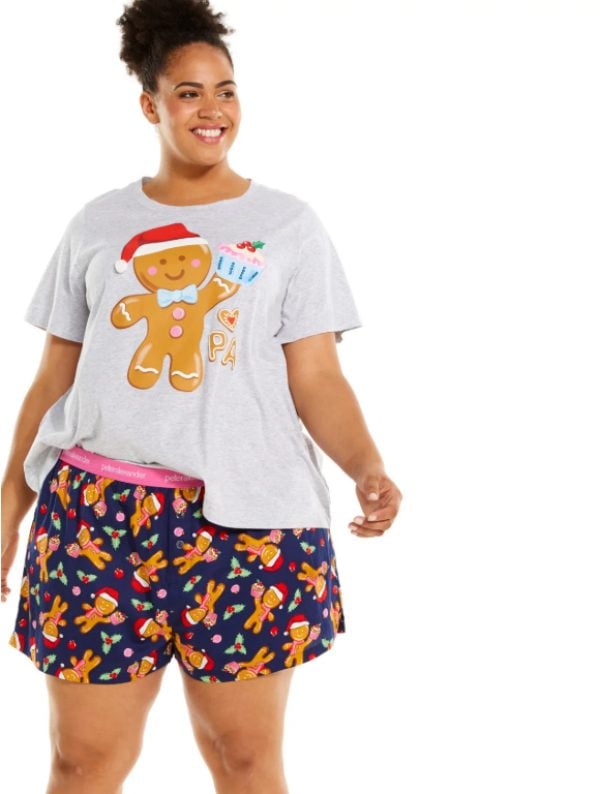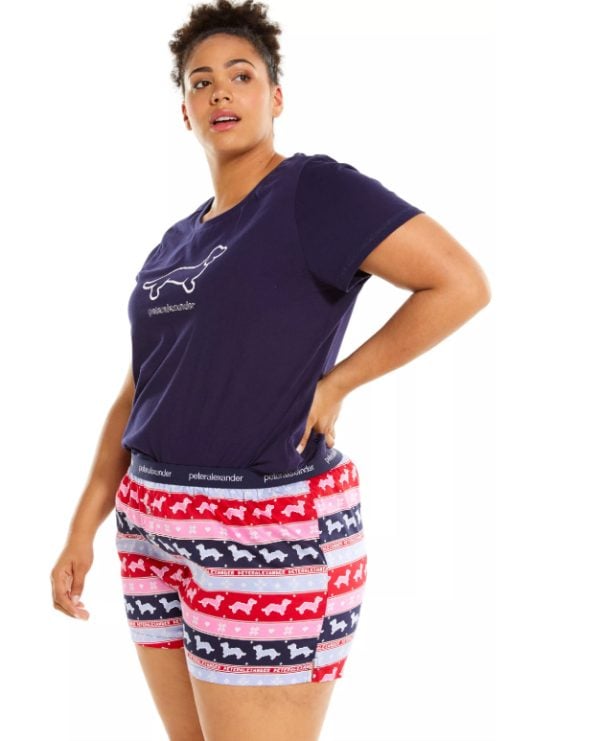 There's a reason why I can't stop staring at photos of these women wearing pyjama shorts.
Their legs look like mine. They have cellulite, uneven skin tone, little dots from tanning or hair removal and random marks, perhaps from playing sport or a childhood jumping over fences.
Shorts in general are one of the items of clothing many women insist they 'just can't wear', largely because of those 'imperfections' listed above. Seeing (mostly) unaltered images of shorts made in an extended size, worn by a woman of that size is powerful and important.
Not just because of how they look, but what they say.
In my eyes, Peter Alexander's brand has always been in the glossy, unattainable space shared with the likes of Victoria's Secret. Lovely to look at, but from a distance.
For a good few of my high school years, Peter Alexander pyjama shorts were the go-to gift for birthdays and Christmas. I'd walk into the pink, fluffy stores and buy them wrapped in fun packaging for my friends, but never for myself, and if I happened to choose the pair wrapped up in Kris Kringle, I'd have to put them back or worse, stuff them in a drawer never to be worn or enjoyed.
That's why these images, and these shorts, matter to me. They're something I can be a part of.
The debate around whether brands like Peter Alexander have a responsibility to consumers to carry 'extended' or 'plus' sizes isn't new. It's also not cut and dry.
Showpo founder Jane Lu spoke about why extending their sizes to include from size 4 up to size 20 was a big, but lengthy achievement for the brand on Mamamia's Lady Startup podcast earlier this year. (You can listen to Jane Lu's full interview here if you're interested.)
"We've just extended our sizes, and I know a lot of people have said oh you should've done that in the first place, but trust me, it's not that easy. It took us a year to work with our factories... that traditionally don't make those sizes... to make our designs from size 4 up to 20, which we want to extend even further," she said.