We've got some weird and wonderful news for you today. So let's get into it, shall we?
1. Pete Evans' penis was nearly nibbled by a horse. We wish we were joking.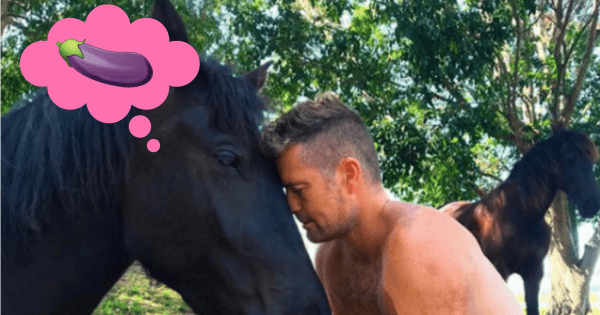 Excuse us, but Pete Evans has given us an explanation of sorts about those naked horse photos and now everything makes sense. (Sort of.)
Speaking to Sunrise this morning, Evans said the reason he had shorts on, and his wife Nicola didn't, was because the horse likes to... nibble.
"Our horse Zorro actually likes to have a bit of a nibble. So, I put shorts on just in case," he said.
"He's very frisky. He likes to show his love so you want to cover up just that little period of time."
Um. OK?
Oh wait, there's more:
Normally, the couple are completely "starkers."
"That's the beautiful thing about having a farm, why do you need to wear clothes?"
We thought we just concluded we needed to because of the wayward, nibbly horse?
Listen: Pete and his wife previously presented us with a modern ethical dilemma. (Post continues.)

2. How Jessica Alba's brand wound up in a lawsuit about marijuana.
Jessica Alba, lawsuit and marijuana aren't words you'd typically hear in one sentence. Yet here they are, as the actress and mother-of-two is suing the doobies out of a rival company for nabbing their name.
The 36-year-old's business, the Honest Company claims medicinal marijuana company, Honest Herbal is using their 'honest' shtick to dishonestly boost their sales.
TMZ reports the Honest Company claims it's letter to Honest Herbal earlier this month asking them to drop the Honest name was ignored.
Honestly, just drop the 'honest' and be done with it, capishe?
3. Bec Judd's pregnancy throwback photo proves she is a total warrior.
Fact: Bec Judd has a lot of experience being pregnant. With four kids under six, we've come to expect only the honest (and frankly, kind of TMI) truth from the the TV presenter and model on the subject.
In her latest Instagram post, the 34-year-old shared exactly what carrying two bloody big babies looks like. And gee it looks unpleasant.
"iPhone memories reminded me that on this day 1 year ago, I looked like this alien- measuring 47 weeks," Judd wrote alongside the pic of literally the biggest baby belly we've ever seen.
"I will never forget the pain (and associated bawling) of growing two humans. To all the multiples mums out there, I feel ya.
"Ps. It's actually the best thing you'll ever do. PPS. I still have that linea nigra almost a year on. Twin hormones are next level. #waddlewaddle."
Bec, if anyone tries to tell you you're anything but a warrior, tell them to shove it.
4. The One Direction dude we all forgot existed has a new (Victoria's Secret model) girlfriend.
Former boy band superstar and current solo-artist-turned-very-serious-actor Harry Styles has gotten himself a new girlfriend it would seem. (Sorry, One Directioners still holding out hope the next one would be you.)
Her name is Camille Rowe and she's a 27-year-old Victoria Secret model - so no surprises there really given he's been previously romantically linked to Kendall Jenner, Taylor Swift and Cara Delevingne. Beautiful, top-of-their-game women are clearly his thing.
It's not officially official of course - but websites like TMZ called it when they spotted the couple leaving a restaurant with Harry carrying Camille's bag.
Yep, sounds like something only a boyfriend would do to us.
5. Pretty Woman is being revived for Broadway and we are not worthy.
To those who have been frantically planning their next holiday to New York since hearing Mean Girls is being turned into a musical we have something to make you even more excited.
Pretty Woman is also set to get the Broadway treatment. The 1990 film starring Julia Roberts as a sex worker whose world is changed by client-turned-lover played by Richard Gere is set to debut on the famous strip in the US autumn (Australian spring) of 2018.
And fans, rest assured, the show's producer Paula Wagner has promised Pretty Woman: The Musical 'will have all the "heart, humour, warmth and joy of the film".
We can't wait. Except most of us really can, given that Mean Girls will premiere in April 2018 and there's no way we can afford to stay in the US for six months to stick around to September or October.