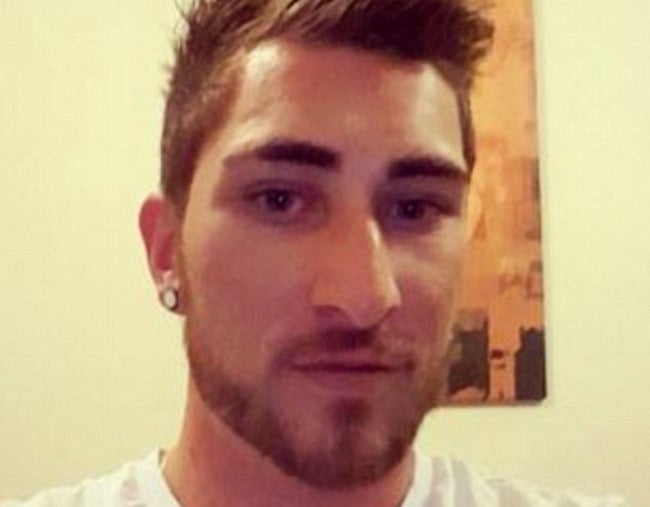 With AAP.
1. Father killed son to avoid missing AFL grand final, court hears.

A Perth man stabbed his 23-year-old son to death then left two of his other children to bury the body while he watched the AFL grand final, his trial has been told.
The body of Matthew Kyle Fisher-Turner was discovered in late October 2016 buried in the backyard of the family's Parmelia home and it's believed he was killed almost four weeks earlier.
Ernest Albert Fisher is charged with murder while two of his other children, Joshua Douglas Fisher-Turner, then 26, and Hannah Jayde Fisher-Turner, then 19, are on trial accused of being accessories to murder.
Prosecutor Laura Christian told the Supreme Court of Western Australia on Monday that an argument erupted after Mr Fisher-Turner wanted to borrow his father's car, because Fisher was keen to drive to a friend's to watch the AFL grand final.
After the killing, Fisher started digging a grave in the backyard then left the house to watch the match, leaving it up to Joshua to bury his brother and clean up blood, while Hannah helped carry the body outside on a ladder, Ms Christian said.
"Dig it deep," Fisher told them, according to Ms Christian.
Days later, Fisher told the deceased's concerned friends his son had "gone over east with a chicky babe", initially telling police he presumed he'd travelled to Brisbane to see a girl he met on Facebook.
But when detectives said they believed Mr Fisher-Turner had never left the house and had died there, Fisher confessed, describing the victim as "horrible", claiming he was using drugs and behaved very aggressively.
Fisher's counsel Sam Vandongen said his client admitted killing his son when he realised lying was pointless and also conceded he'd instructed at least one of his other children to dispose of the body.
Mr Vandongen argued Fisher acted in self-defence, although the threat was not imminent.
The trial continues.
2. Donald Trump and Kim Jong Un are set to meet today. Here's what to expect.
Kim Jong Un has reportedly taken his own toilet to the Singapore summit where he is due to have nuclear talks with Donald Trump #TrumpKim https://t.co/nuow3dzSIm

— Sky News (@SkyNews) June 11, 2018
Here's a look at how today's first-ever meeting between the leaders of North Korea and the United States might turn out:
WHAT DOES SUCCESS LOOK LIKE?
Success in Singapore would see North Korean leader Kim Jong-un making a bold decision to exchange his nukes for economic support and security assurances, according to Ryan Haas, an Asia expert at the John L. Thornton China Centre.
Both leaders would offer "clear, specific, unequivocal statements" outlining a dismantlement of North Korean weapons, an inventory and removal of all nuclear fuel and an opening up to UN nuclear inspectors.
US President Donald Trump has faced intense pressure to win something similar to this.
This is a very high bar, and probably unrealistic after one meeting.
SHOULD WE LOWER OUR EXPECTATIONS?
Probably. In fact, Trump has been doing quite a bit of this lately.
What was initially portrayed by the White House as a summit meant to completely rid the North of its nuclear weapons is now being cast as a chance to "start a dialogue" and for Trump the dealmaker to look into the eyes and take the measure of his nuclear-armed antagonist.
WHAT IF THE SUMMIT FAILS?
If things fall apart, it could be because "Trump presents Kim with a hard-and-fast binary choice: relinquish nuclear weapons and live in peace and prosperity, or cling to them and risk the impoverishment of your people and the safety of your regime," Haas said.
But a failure on Tuesday doesn't necessarily mean a return to the animosity of 2017.
That's in part because of South Korea's diplomatic outreach to the North, which was highlighted by two summits this spring between the rivals' leaders.
Scott Snyder, a Korea expert at the Council on Foreign Relations, says that even if the meeting fails to achieve anything new, the situation will still be better than it was at the end of 2017.
3. Model Chloe Ayling's kidnapper jailed, concluding she had no part in the plot.
An Italian court has convicted a Polish man of kidnapping a British model for ransom and sentenced him to 16 years and nine months in prison.
Prosecutors in the case of Lukasz Herba said Chloe Ayling, 20, was drugged and kidnapped when she showed up at a Milan address for a modelling job and was then held for six days at a farmhouse in the neighbouring Piedmont region before being released at the British consulate in Milan.
Herba, 30, had claimed Ayling agreed to the scheme to boost her career.
Ayling, meanwhile, maintained that she only cooperated with her captors to stay alive.
4. Grocery store claims racist Instagram post was a 'typo'.

A Queensland grocery store owner has been forced to apologise after a seemingly racist caption was posted to the business' Instagram page.
The post has since been deleted from the Charlie's Fruit Market account, but according to The Courier Mail featured a meme relating the ripeness of avocados to the days of the working week - "hard AF" for Monday, to brown and "nope" by Thursday.
According to the paper, the caption accompanying the image read, "We ALL know those feels … Love our Avocados … hate our Abocados!"
The post was shared by hundreds of social media users, many who accused the Brisbane business of being "racist".
In response to the backlash, Charlie's Fruit Market owner, Johnny Tabet, posted a heartfelt apology on the company's Facebook page.
"Our wonderful social media manager, who has been with us from the start, made a terrible typo last night on our post. This is the same lady who was instrumental in us not celebrating Australia Day and respecting the traditional owners of this land. That's why we believe her when she says this is a typo," he wrote.
"Racism is unacceptable! This was never meant to be a joke about the wonderful original owners of this land but a joke about how quickly avocados turn black!
"From the bottom of my heart I am so sorry that this has happened, I'm so sorry that a mistake was made. I'm sorry that it has escalated to this."
5. Childcare groups and parents criticise new childcare subsidy scheme.

Childcare groups believe centres and parents will face more red tape, not less, when changes to childcare subsidies come in next month.
From July 2 the federal government will consolidate childcare payments into a single-test subsidy.
But submissions from organisations to a parliamentary red tape committee suggest the changes will create problems.
Although it was designed to be simpler than the multi-payment system, The Community Child Care Association says the changes will unnecessarily burden parents.
The Australian Community Children's Services agrees.
Managing enrolment lists will be more complex for services while reporting requirements and maintaining continuity in childcare access will add to an already stressful situation for families, the organisation claims.
Thousands of families are yet to sign up for the new subsidy, which requires updating their details on myGov.
While 800,000 families have signed up, more than 1.1 million are expected to be eligible.
Nicole Lessio, a campaign manager with The Parenthood, says a 93-page Draft Childcare Provider Handbook will require a lot of attention from early education and care providers.
"The time and effort required to comply is fine for bigger players in the sector, however the smaller centres will find the requirements quite intense," she said.
The red tape committee will hold a public hearing in Brisbane on Tuesday.
6. Woman transported her grandchildren in dog carriers.
Fellow drivers were shocked to see a Tennessee woman pull over, and two kids hop out of dog carriers in the back of her car on Saturday.
According to Memphis police, 62-year-old Leimome Cheeks told her two grandchildren, aged seven and eight, there was no room inside her car and they had to get in the dog kennels for the 35-minute trip, WREG reports.
The children later told police they'd become hot inside the carriers, which neighbours say were used to transport the woman's two German shepherds.
Police have since charged Cheeks with two counts of child endangerment.