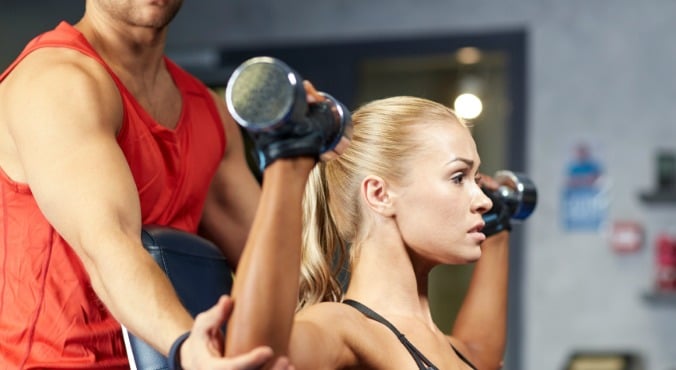 Image: iStock.
Who knew you needed to be bilingual to get through a workout?
OK, so you don't need a Masters in Arabic to attend a spin class or to speak fluent Mandarin to survive Pilates. But start attending fitness classes and you'll quickly learn they come with a language entirely of their own.
'PT Speak' (a name I just invented) is characterised by instructions that sound very motivating and fitness-y, but can be a little… befuddling. Ever been left scratching your head after a trainer or instructor told you to "engage the core"? That's what I'm talking about.
We asked two personal trainers to translate some of the common phrases that come from the mouths of instructors.
"Engage your core!"
This phrase, along with its twin "activate your core", is classic PT Speak. Personal trainer and lululemon ambassador Kat Weihen explains that it's not about sucking in.
"Essentially, we are wanting clients to draw their belly button towards their spine in order to activate their transverse abdominals — the ones that wrap around your torso area like a corset," she says.
Watch: Sam Wood demonstrates a simple bodyweight circuit you can do at home. (Post continues after video.)
"Push through your heels."
What am I pushing, exactly…?
"Ensure the weight is in the back of your foot, not through your toes," explains Fernwood Fitness Melbourne City Personal Trainer Deanna Giuliani.
"Belly into ribs."
Honestly, this one sounds like something you'd find on the menu of a meat restaurant ("I'll have the Belly into Ribs with a side salad, thanks!"). However, it's really just another way of saying "activate your core," Giuliani explains.
"Drive with/from the hips."
Bump, grind, swing — we do a lot of things with our hips. So how, exactly, does one 'drive' with them?
"Driving from the hips would be referring to 'pushing them forward' so as to activate the glutes (your butt muscles)," says Weihen.
"The glutes are our biggest muscle group but are highly underused and under activated as we are often sitting on them all day. If you 'drive' or push forward from the hips, we would also cue to squeeze your glutes." (Post continues after gallery.)
"Soft knees."
Don't go getting self-conscious about your knees — this one is actually pretty straightforward. "This is when you have a minor bend in your knee. It is important not to lock your knees during exercise, as soft knees support your back," Giuliani says.
"Square your shoulders/hips."
We all know it's hip to be a square — but the process of squaring your hips is less well understood. Simply, this direction means you need to keep your hips or shoulders level or parallel.