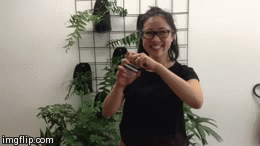 When I was a little girl, I had a locked drawer in my bedroom which contained my most prized possessions: around 15 tiny bottles of fragrance samples which my dad had given me from his work as a salesman in the beauty industry. Uh, yeah, so the apple doesn't fall far from the tree, right?
Every so often, I'd unlock the drawer, sit on the floor amongst my precious bottles, and then smell each one.  I must have been the only kid who knew the olfactory differences between Chloe's eponymous scent and Cacharel's iconic Anais Anais.
Related: How to choose a wedding perfume (and go insane).  
Flash forward two decades or so, and I was using my childhood knowledge in my newest job as a fragrance spritzer. Yeah, I was one of those girls who harassed people in department stores, wielding an expensive glass bottle and offering to spray them with scent. I relished the training I received for this job. Here's what I learnt.
Rule 1. Spray it in a "slashing" motion.
Imagine this: you find a fragrance you love, and then you hold the spray nozzle right up to your arm and then squirt! You've sprayed a circle of wet fragrance on your skin, and it's now dripping everywhere. This is how not to do it. This botched application is especially irritating if a fragrance consultant has done it to you. It's just messy and unprofessional.
This is how a professional fragrance flogger sprays a fragrance – it's an art, and admittedly, quite theatrical. We use a "slashing" motion. Think of it as a dance move! Okay, follow along with me.