Have you seen that Peppa Pig episode where Peppa kills Mummy Pig and cooks up her flesh in a frypan?
How about the one where Peppa is hugging Daddy Pig when someone blasts her head off with a shotgun?
Can't remember those? Well, if your kids like watching Peppa on YouTube, they might have seen them.
A YouTube channel called Horror Parody has been posting mini horror movies that look like episodes of Peppa Pig. They begin with a brief warning that they are for "mature audiences only" and contain strong language and violence. An adult watching the screen with a child would know to turn off at that point. But perhaps not a child watching alone.
These horror parodies are easy to stumble across. I went to YouTube, typed "Peppa Pig" into search, and within the first three pages of results, "Peppa Pig Bacon And Eggs Horror Parody" popped up. I clicked on that one, and a lot of similar ones appeared down the side.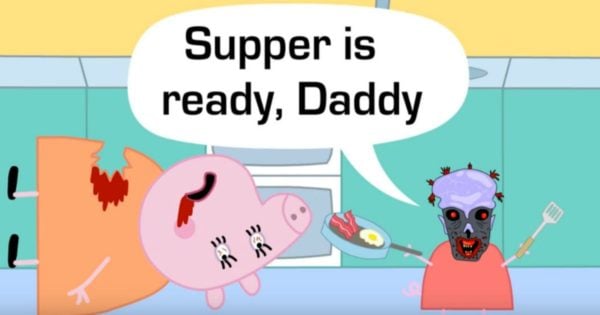 The parody starts harmlessly enough, with Peppa going to the park, then appearing again, saying she's changed her mind. She says she wants to eat bacon and eggs, and Daddy Pig laughs it off as a joke. Later, Daddy gets a phone call from Peppa, who's still at the park. He races through the house in terror to discover that the fake Peppa has murdered Mummy Pig, ripped out her flesh, and fried it in a pan, with eggs on the side.
If you're an adult who finds Peppa Pig irritating, you might laugh. If you're a pre-schooler, you could be mentally scarred.
Earlier this month, Laura June, a UK journalist and mum to a three-year-old, wrote an article for The Outline where she talked about her daughter accidentally watching a Peppa Pig knock-off on YouTube. That one involved Peppa going to the dentist and "horrifying" things happening. She said her daughter had also accidentally started watching a Doc McStuffins knock-off, which ended up with Doc and her friends becoming zombies.