Have you seen that Peppa Pig episode where Peppa kills Mummy Pig and cooks up her flesh in a frypan?
How about the one where Peppa is hugging Daddy Pig when someone blasts her head off with a shotgun?
Can't remember those? Well, if your kids like watching Peppa on YouTube, they might have seen them.
A YouTube channel called Horror Parody has been posting mini horror movies that look like episodes of Peppa Pig. They begin with a brief warning that they are for "mature audiences only" and contain strong language and violence. An adult watching the screen with a child would know to turn off at that point. But perhaps not a child watching alone.
These horror parodies are easy to stumble across. I went to YouTube, typed "Peppa Pig" into search, and within the first three pages of results, "Peppa Pig Bacon And Eggs Horror Parody" popped up. I clicked on that one, and a lot of similar ones appeared down the side.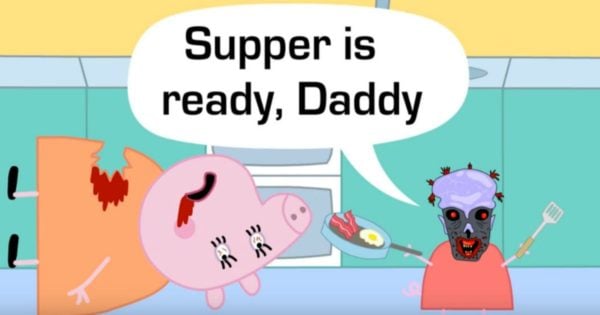 The parody starts harmlessly enough, with Peppa going to the park, then appearing again, saying she's changed her mind. She says she wants to eat bacon and eggs, and Daddy Pig laughs it off as a joke. Later, Daddy gets a phone call from Peppa, who's still at the park. He races through the house in terror to discover that the fake Peppa has murdered Mummy Pig, ripped out her flesh, and fried it in a pan, with eggs on the side.
If you're an adult who finds Peppa Pig irritating, you might laugh. If you're a pre-schooler, you could be mentally scarred.
Earlier this month, Laura June, a UK journalist and mum to a three-year-old, wrote an article for The Outline where she talked about her daughter accidentally watching a Peppa Pig knock-off on YouTube. That one involved Peppa going to the dentist and "horrifying" things happening. She said her daughter had also accidentally started watching a Doc McStuffins knock-off, which ended up with Doc and her friends becoming zombies.
June said the videos seemed to be made to confuse children.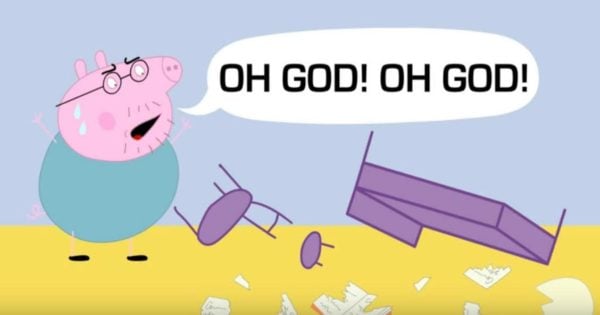 "These videos are for kids, intentionally injected into the stream via confusing tags, for them to watch instead of legit episodes of beloved shows," she wrote.
BBC Trending investigated, and found hundreds of similar videos involving kids' cartoon characters with inappropriate themes. The characters included ones from Minions, Thomas The Tank Engine and Frozen.
Sonia Livingstone, an expert on child online safety, said it was perfectly legitimate for parents to believe something called Peppa Pig was going to be Peppa Pig.
"I think many of them have come to trust YouTube... as a way of entertaining your child for 10 minutes while the parent makes a phone call," she told BBC Trending.
"I don't think we want to police it for the whole world. A lot of this material is satirical, creative – or actually offensive but within freedom of expression. What we need is child protection."
YouTube suggests that parents use the YouTube Kids app. Parents can also make sure they've turned on "restricted mode" in YouTube.
Host of This Glorious Mess, Holly, talks to Phil about how he became Mister Maker.
Thank you - just by clicking on this and other content on Mamamia, you are helping to fund education for some of the world's most disadvantaged girls.
Together with our commercial clients and charity partner Room to Read, Mamamia's goal is to be funding 1,000 girls in school each and every day, by June 2020.
Learn more here about our ongoing mission to make the world a better place for women and girls.