Splashy and a bit trashy, the Trumps have landed back on the cover of People magazine, this time in a mode more suited to juicy details of the latest celebrity divorce.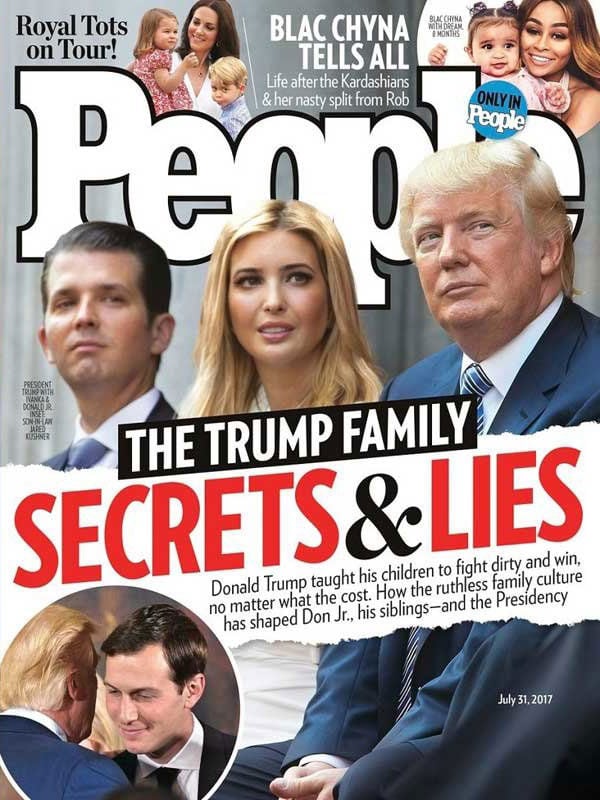 "THE TRUMP FAMILY SECRETS & LIES" screams the cover and while there really isn't much of either, the inside story of life in the First Family is presented as breathlessly as possible:
Donald Trump Jr. is "miserable" and "can't wait for these four years to be over."
The three eldest children—Junior, Ivanka and Eric—live by "their father's creed of winning at all costs and never admitting mistakes."
Ivanka has always been (and at this rate, always will be) Dad's favourite.
Dad doesn't like failure or mistakes. "He doesn't accept them," says a source. "You have to justify your existence to be in his realm."
Good stuff, for sure—but could it also be a turning point?
Could this be just the type of coverage that will finally break through to the millions of American who still don't care about the Trump Administration's dealings with Russian contacts during the presidential campaign last year?
LISTEN to the latest episode of Mamamia's Tell Me It's Going To Be Okay podcast:
As one of America's largest magazines, People not only guarantees a readership of more than 41 million people every week but also can be found in nearly every newsstand and check-out aisle nationwide.
That's why choosing the cover story of such a massive print publication is not done lightly.
As Vox notes: "If People's editors didn't think readers would be interested in this story, they wouldn't have broken with their typical fawning coverage of The Trumps and pushed other go-to topics like the British royal family and Kardashian-related drama to the margins (literally)."
So true.