By Shirley Jackson, University of Melbourne
The Fair Work Commission decided to cut Sunday and some public holiday rates of pay across the hospitality, retail, pharmacy and fast food industries for full time, part time and some casual workers.
This will hit young people the hardest as research tells us that while a third of Australians rely on regular Sunday shifts as part of their wage, nearly 40% of young people rely on penalty rates to survive.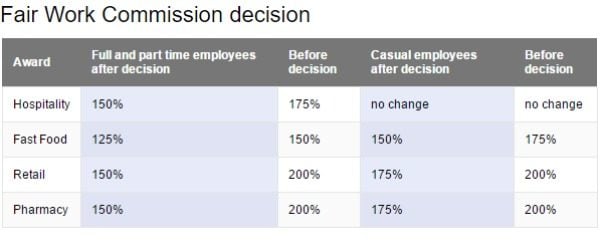 Penalising people on penalty rates.
Penalty rates have been part of the labour market for almost 100 years, since the Australian Conciliation and Arbitration Commission ruled in 1919 that additional payment was required for working unsociable hours. This decision remains popular a century later. According to the latest polls, 82% of Australians support this compensation for working outside the usual working week.
Listen: Even with the extra money in their pockets Gen Ys still wouldn't be able to buy a house. Not if they kept up their lavish life of daily brunches.

The latest Fair Work Commission decision was the result of a full bench of commissioners hearing evidence from 143 witnesses after receiving 5,900 submissions. These submissions were from some of the largest interest groups in our society, such as the The Australian Council of Trade Unions (ACTU), the Australian Industry Group (AIG), Australian Chamber of Commerce and Industry (ACCI), National Retail Association (NRA), as well as submissions from individuals across Australia.
The timing of the release seems to be poor, as the latest Australian Bureau of Statistics (ABS) data shows that wage growth in the private sector is at an all-time low and that the cost of living is at an all-time high. Given this context, it seems ill-advised to reduce the wages of a largely casual workforce that already lacks security and stability.