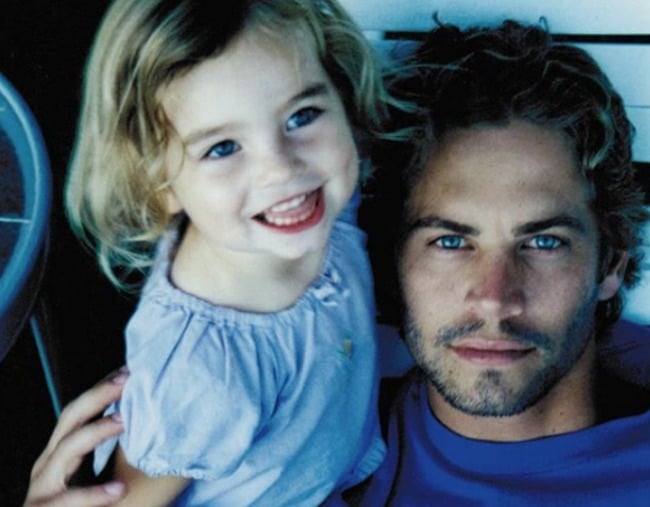 On November 30, 2013, Paul Walker was killed when the car he was riding in crashed into a concrete lamp post.
He was just 40 years old.
Earlier that day, Walker was hanging out with his 15-year-old daughter, Meadow Rain, and his mother, Cheryl. They were making plans to choose and decorate a Christmas tree later that day.
Then Walker received a text message, reminding him that he had to attend the Reach Out Worldwide charity event that afternoon.
His daughter would never see him again.
Walker would travel home from the event with his friend, Roger Rodas, with Rodas driving in his Porsche Carrera GT.  While driving at 72 kilometres an hour, the car would slam into a concrete pole and two trees and burst into flames.
Walker died from trauma and burns, while Rodas died from multiple traumas.
Cheryl has recounted his final steps in the upcoming documentary about his life, I Am Paul Walker. 
"We were having this good conversation, and he'd forgotten about an event he had," she says, according to People.
"He got a text and said, 'Oh my gosh, I'm supposed to be somewhere!'."
Walker then rushed out the door to attend the charity event, which was held at a race shop to raise funds to help the victims of Typhoon Haiyan in the Philippines.
"I think so many people think, 'Oh, he was just a movie star who was killed in a car accident'. But there was so much more to him," Cheryl says in the documentary.
"That was just a piece of who he was. He was an amazing man."
In 2015, on her father's birthday, Meadow posted a touching tribute to the dad she lost far too early.
"Reflecting on my father, I found myself reflecting on his passions. His passion for the ocean, his passion for rescuing animals, his passion for helping people and his passion for spontaneous goodwill. I wanted to start this foundation because I want to share that piece of him with the world. I want to share that part of him with others," she wrote on Instagram.
"I am tremendously proud to be launching The #PaulWalkerFoundation on his birthday. I can't think of a better way to celebrate my father."