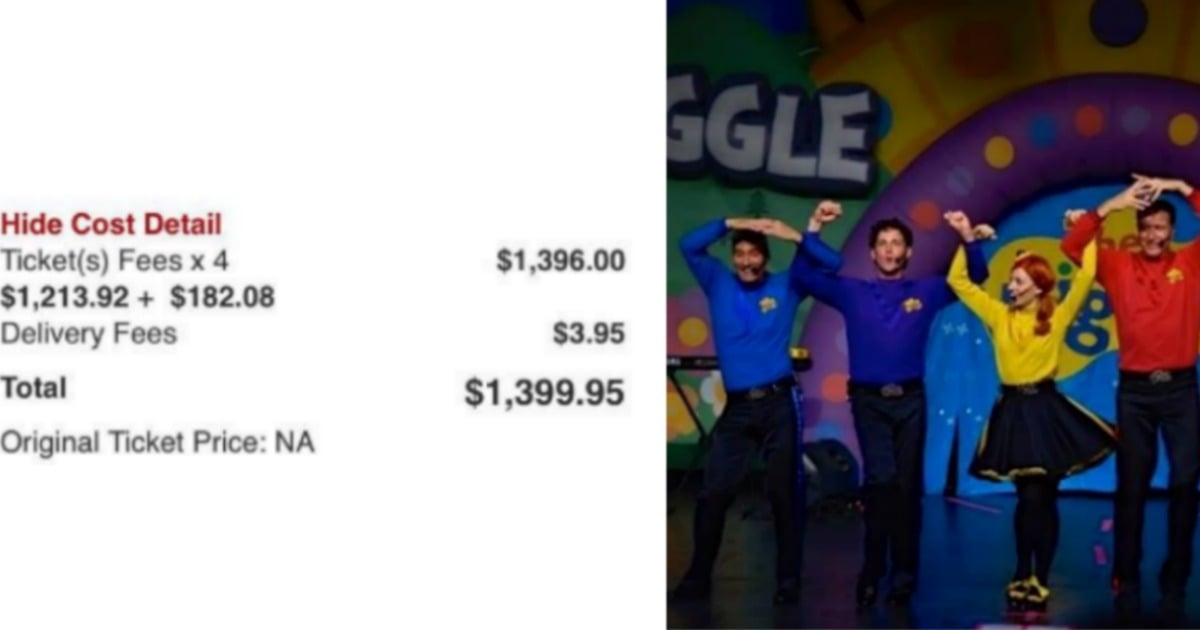 Parents are celebrating after The Wiggles took a stand against scalpers on-selling their concert tickets for upwards of $450 each, announcing a brand new new tour.
Scores of Perth mums and dads were left disappointed after tickets for the two November concerts sold out in a matter of minutes on Wednesday morning, apparently snapped up by money-hungry scalpers.
One furious father reported seeing tickets that were supposed to start at $36.60 being sold at TWELVE TIMES their original cost.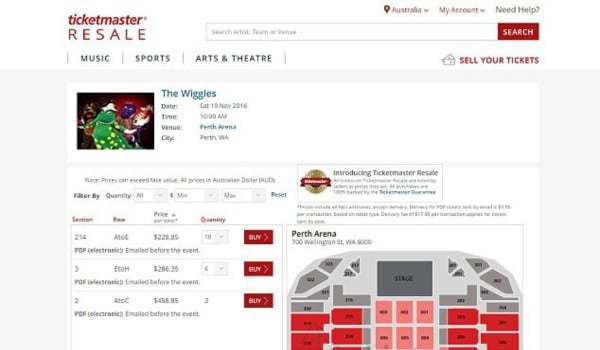 The Perth father raged at the prices being advertised on ticketing resale website.
"Wiggles tickets go on sale 10am today, premium seats for $45 each sold out by 10.05am so couldn't get any for my two and five year olds," he said.
"They go on sale on ticketek resale website at 10.15am for $450 each!!! C'mon guys scalping tickets to a children's concert…WTF you w****rs! [sic]."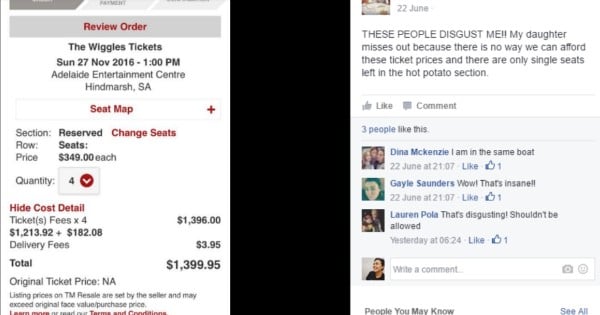 The exorbitant tickets were being advertised on Ticketmaster Resale - an regulated site that allows ticket holders to sell their seats at a price they set.
Other parents soon swarmed The Wiggles' official Facebook page to complain about the costs.
"I love how people are buying BULK tickets just to resell them to other parents for a higher price," one user said.
"It was very disappointing to miss out on tickets yesterday in the pre-sale, only to find them this morning being re-sold on Ticket Master Resale for ridiculous prices. So called 'fans' using the pre-sale to profit by purchasing the best seats whilst the genuine little Wiggles fans are left without tickets or in our case, not great seats," another user said.
One user - who was even willing to make the 700-kilometre trip from Kalgoorlie - asked organisers to stage a third show.
"Devastated. Missed out on tickets to Perth. Was planning on coming from Kalgoorlie. Is there a possibility you'll open another show for Sunday?" they said.
It seems The Wiggles' organisers heard the simple plea, announcing a third show by Wednesday afternoon.
Happy parents flooded the page with gratitude.
"Thank you so much for putting on a third show! I was finally able to get tickets, and Miss 3 is so excited!!! "Yay, Wiggles tickets! We go to concert and see Emma and Lachy! Emma my best friend!" One user said.
"Yay got 2 floor tickets for your extra show! My son LOVES you. Cannot wait til November!" Another user commented.
The Wiggles' official page spoke to parents directly about the inflated costs of resold tickets and the dangers of purchasing them.
"Thank you to everyone for your patience today when buying tickets to Dance, Dance! The Wiggles Big Show! We received a number of concerned emails and messages about tickets being resold and scalped by unauthorised sellers for exorbitant prices," they said.
"Please know, we share your concerns and take this very seriously."
The Wiggles linked concerned fans to their own website where they provided a detailed warning against the dangers of buying tickets from unauthorised sellers.
Watch as the parents of Mamamia share some of the weird things their kids have done.