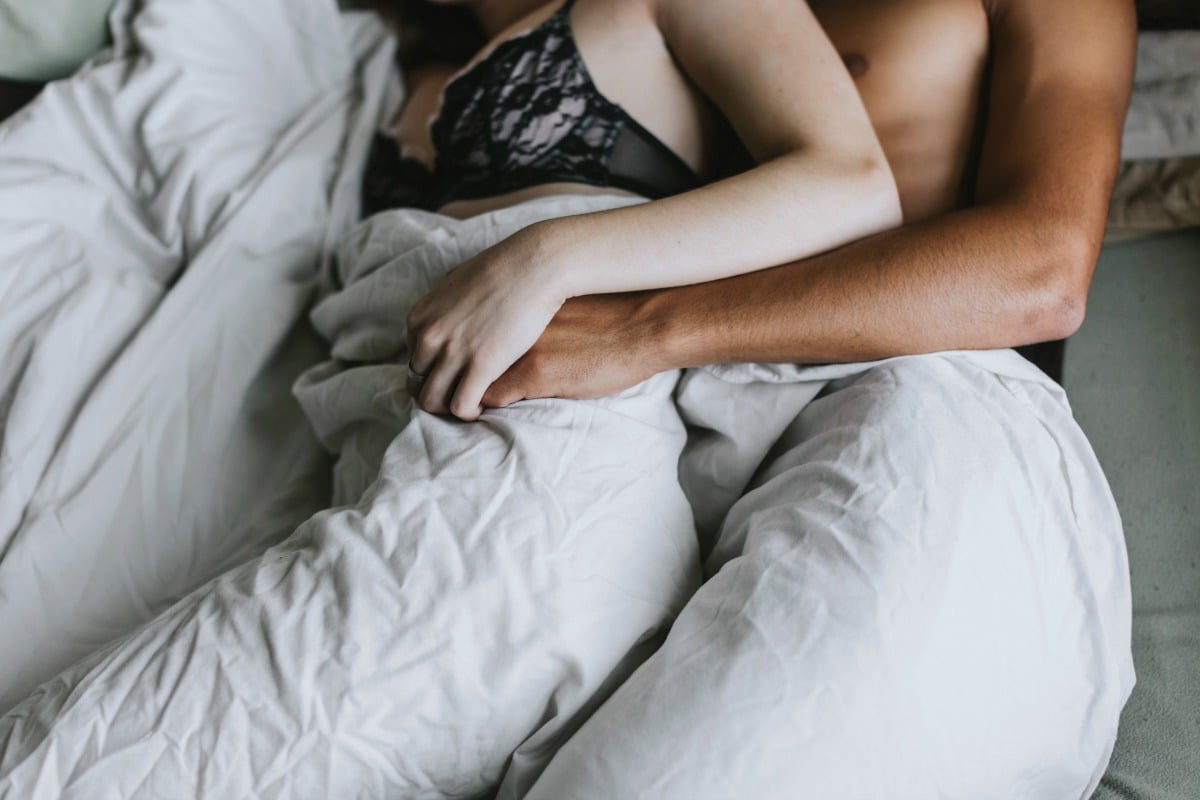 There is nothing like the arrival of children to put a dampener on the sexy times in a relationship. Whether it is the feeling of exhaustion at the end of another busy day or logistical dilemmas involving kids sleeping in your bed; parenting usually equals less sex.
This is not the case for everyone and some couples with kids are not only managing to have hot sex at home, they are also making time to have hot sex with other people. Mamamia spoke to two such couples about why, when and how they visit sex clubs or swap sexual partners, as they juggle the responsibilities and demands of parenting.
Natalie and Adrien* are in their mid-thirties and have three children under seven. Together for seventeen years and married for ten, the couple enjoy plenty of hobbies including hiking, kayaking, dining out and watching Netflix. About once a month they also 'play' or have sex with other people.
Exactly how to have better sex, according to escort Samantha X. Post continues below…
For Natalie, the benefits of swinging are unbeatable.
"It's all the fun and excitement of dating – but as a team – which is a lot of fun! We've enriched our lives with friendships we would never have otherwise formed with like-minded, sexy and relaxed couples.
"Beyond the fun, our communication has really improved in terms of learning to listen and articulate our emotions to each other, which is essential in the partner-swapping scene.
"Swinging has given us a naughty little secret together that even in times of stress, one of us can make a joke about or give a wink or wry smile that immediately eases the tension. We believe it's forced us to focus on us and our relationship and not be overwhelmed by the demands of parenting."
Sydney based professional couple Jeremy and Lou* are both thirty years old with one child aged six. They have a passionate sex life but started swinging and experimenting in 'the lifestyle' after feeling they had lost some of their personal identity when becoming parents.
"We spent a long time exploring the fantasy of 'playing' with others before actually considering it. We had tried to look for other couples for private play but found it was a real hit-and-miss experience with a lot of talk and no action.
"Finally, we settled on Our Secret Spot club in Sydney, given its reviews online and how active the owners seemed to be in the industry. That first night we booked ourselves a hotel room and an overnight babysitter, I was so nervous that we showed up too early and were the first ones there!
"This lifestyle has allowed us to identify that we have needs that lie outside of our family and that it's important to give them life. It's also enabled us to feel closer as a couple and raised our level of intimacy and trust. You can't expect to watch your partner have sex with someone else if you don't have a unique level of trust that they aren't doing it elsewhere as well."
For both couples, the main difficulty lies in the logistics and expense of locking in childcare and getting out of the house. Jeremy and Lou are fortunate enough to have a full-time au pair living at home who encourages them to go out, whereas Natalie and Adrien who live in a small rural town, have to use family or paid babysitters.