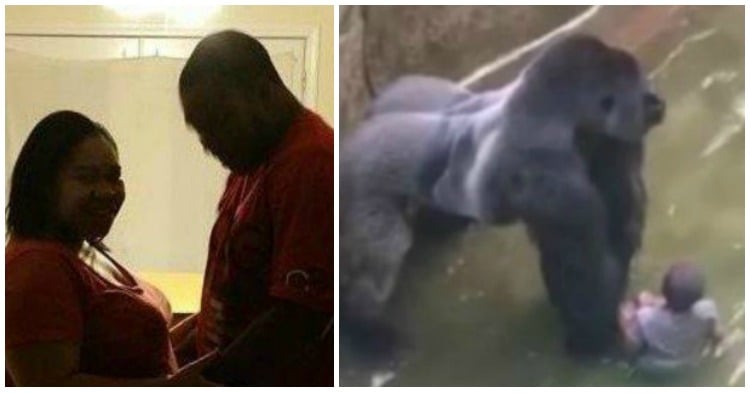 The parents of the four-year-old boy whose accidental fall into Cincinnati Zoo's gorilla moat resulted in the death of silverback gorilla Harambe have been identified.
The death of the 17-year-old gorilla sparked global outrage, with many turning their anger towards the child's mum and dad and labelling them "irresponsible".
Earlier today, the boy's mother Michelle Gregg, 32, identified herself, writing a passionate response to the criticism on her Facebook page.
A photo of herself and her partner and father of her four children, Deonne Dickerson, taken from the social media site is now circulating widely online.
Deonne Dickerson and Michelle Greg. Source: Facebook
It's been revealed that Dickerson has a criminal record for a number of offences and was sentenced to a year in prison in 2006 for drug trafficking, according to the Daily Mail.
However, he currently works as sorter at a Cincinnati industrial equipment supplier and is by all accounts it a loving father-of-four.
His Facebook page is overflowing with family snaps.
Gregg is currently the administrator at a Cincinnati pre-school and has copped the majority of blame for Harambe's death, whether or not it's warranted.
Dramatic video footage of the incident has circulated widely online. Post continues after video...
In the post on her Facebook page she thanked those people who offered her messages of support and defending herself against those who would call her a bad parent.
"I want to thank everyone for their thoughts and prayers today. What started off as a wonderful day turned into a scary one," she wrote.
"For those of you that have seen the news or been on social media, that was my son that fell into the gorilla exhibit at the zoo. God protected my child until the authorities were able to get to him."
Gregg and Dickerson have four children together. Source: Facebook
She said her son was taken to hospital  after the incident but was "able to walk away with a concussion and a few scrapes…no broken bones or internal injuries."
"As a society we are quick to judge how a parent could take their eyes off of their child and if anyone knows me I keep a tight watch on my kids," she added.
"Accidents happen but I am thankful that the right people were in the right place today."