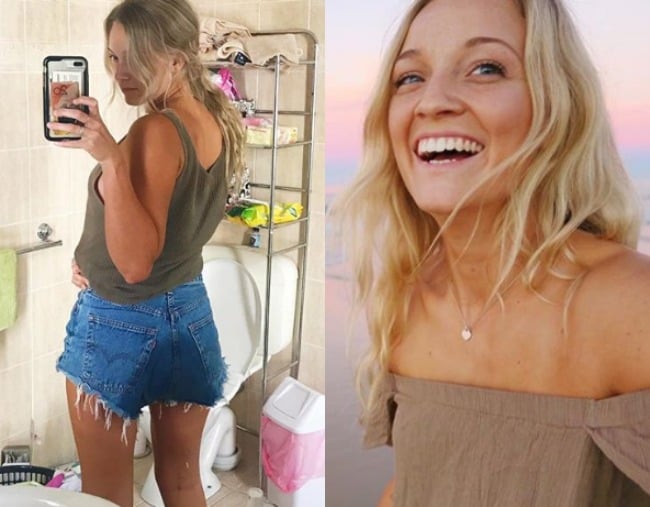 Emma Carey, also known as 'The Girl Who Fell From the Sky', has inspired many Australians with her fierce love for life and positive attitude.
The 25-year-old artist fell from a helicopter when she was skydiving in 2013 and became paraplegic. While she was told she would never walk again, after years of surgery, physio and rehabilitation, Carey is now able to walk unaided.
But despite her incredible fortune in being able to walk, she still faces many issues from her spinal cord injury. One of which is incontinence.
In an Instagram post, Carey shared an image of herself after she had wet her pants.
"This is what I look like every. single. day. Multiple times a day. I think because I can walk, people tend to think I have completely recovered from my spinal cord injury but the truth is I still have many lasting effects, one of them being that I am completely incontinent with both my bladder and bowels," she wrote.
"My bladder can only hold 100mL before it leaks. That's less than half a cup of liquid, so as you can probably imagine this means I am peeing myself literally non-stop."
In an interview with Mamamia, Carey said she was inspired to share the image after an encounter a couple of months ago.
"I had a girl come up to me a couple of months ago, and she said that she is deaf in one ear but was too embarrassed to wear her hearing aid," she said.
"She would rather walk around deaf than wear her hearing aid, and she said when she saw how open I was about using catheters and pads, and peeing myself, it helped her not be so embarrassed about it… I thought wow, I need to talk about this more."