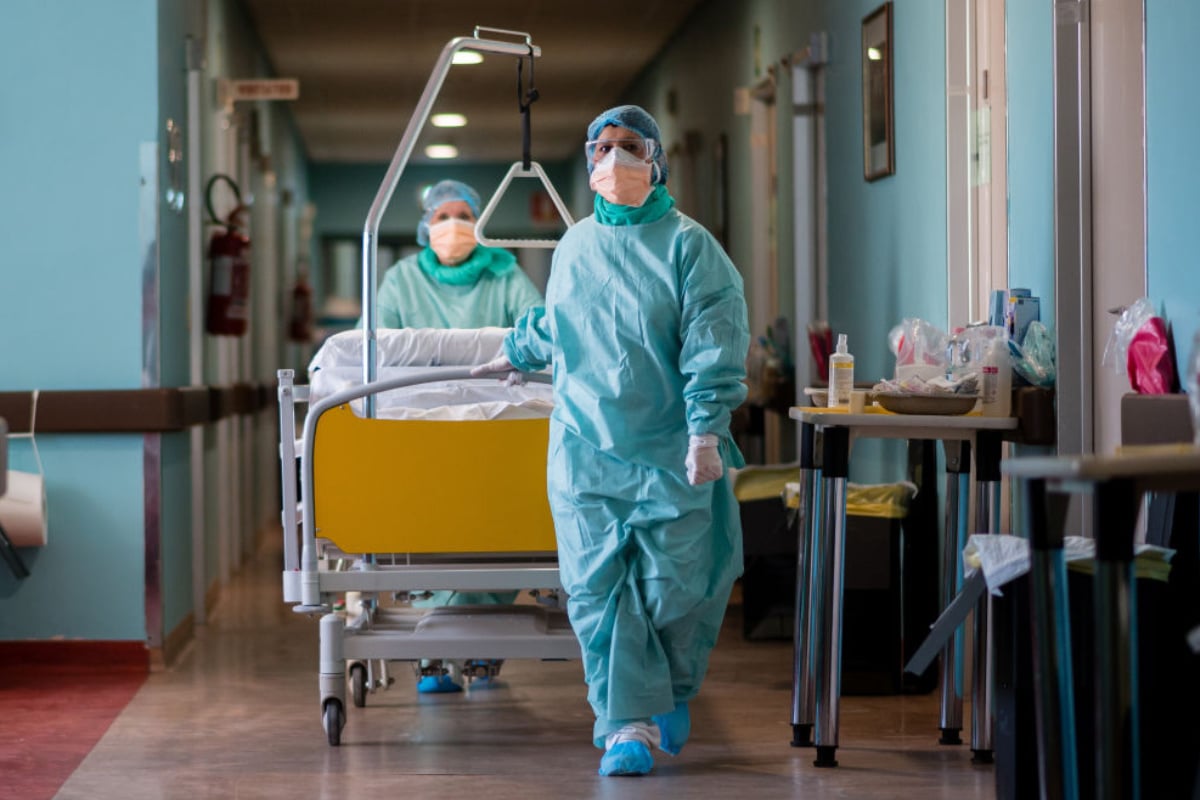 I work as a palliative care doctor in NSW. A large percentage of my work is treating patients who are at the end of their lives, keeping them comfortable – as well as complex psycho/social/bio symptom management. The patients we see are still primarily those suffering terminal cancers, and almost all of my patients are, at any given point, sick enough to die.
In Australia at least, we generally have (geography dependent) decent palliative care, and the majority of people under our care are comfortable when they die. Most die comfortably. Most do not suffer. Those who do have symptoms to address, we treat – with medication for pain, for nausea, for breathlessness, for anxiety, for a whole host of things.
Your COVID-19 questions answered by Mamamia's Claire Murphy. Post continues after video. 

What does this have to do with COVID-19? The introduction of a pandemic changes the way we live, but also the way we die. At the moment, people wish to die where they are most comfortable – and often this is at home. People generally want to die with family or loved ones about. People generally wish to be as comfortable as possible. All of these things are threatened by COVID-19.
For patients who are breathless at the end of life (lung cancer, emphysema, heart disease etc), we would often prescribe medications like morphine to help control the way the brain breathes and the lungs absorb oxygen, as well as medications like valium to take away the panic that comes from not being able to catch your breath. We know roughly what kinds of doses are needed for certain circumstances, and how people tend to respond.
A new disease changes how we manage. Whether we will have enough medication (and as the virus ripples through the workforce, the expertise), is open to question. My friendly hospital pharmacist has already been finding it difficult to source some medications – global supply chain issues. That's before the wave of the pandemic hits us.
What about going home to die? At the moment in my current area, we provide nursing support at home, sometimes an hour or two here and there to help out with cares and medications, carer training, medication help. If, however, we have a community patient known to be COVID-positive… we cannot provide these things. The risk is simply too high, and so dying at home becomes fraught.
Patients in Italy and in the United States have been dying in single rooms, with no one around, because no one is allowed to be there. Sometimes a visitor can come – wrapped in a spacesuit of protective equipment, for 15 minutes. Sometimes the hospital can find an iPad to do a video chat. Sometimes the staff are so short on protective equipment that they can't even go into the room to give medication doses, but have a pump with a line running under the door connected to the patient, so they can give extra doses, without going too close.