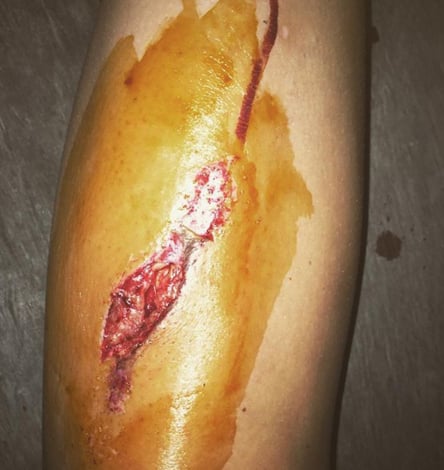 Warning: Story contains some graphic images. 
When I was 14 years old I told everyone at a sleepover that my lower legs were the only thing I wouldn't change about my body.
We were playing the kind of cruel game that only teenage girls can get away with – What would you change about your appearance if you could?
The answer, in most cases, was "everything".
"I'd probably keep my calves," I said, bravely. Everyone was impressed with my body positivity, it's not the kind of thing we talked about.
It was true, too. I liked my lower legs. But my stomach, thighs, nose, bum, feet and shoulders? I'd replace all of those those in a flash.
Now that I'm in my 20's, I thought I'd grown out of that nonsense.
But I was wrong.
Recently, on a holiday to Cambodia, I sliced my left shin open on a wooden step. My boyfriend and I were holidaying on a remote island – accessible-only-by-boat-which-runs-once-a-day kind of remote.
I fell down (or, more accurately, through) the steps outside our cabin on the way to dinner one night. I smacked my shin so hard on the wood, and the pain was so godawful, that I assumed I'd broken a bone. The cut was deep and dirty, and the next boat didn't leave til morning.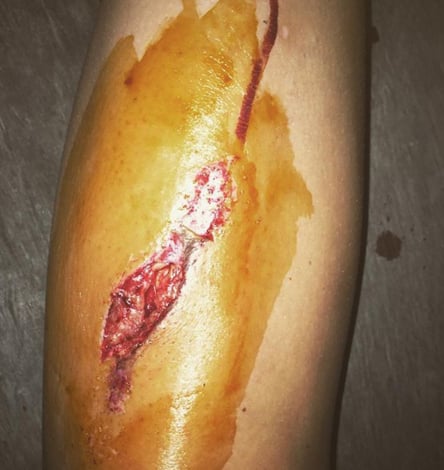 After the administration of some rudimentary first aid, I spent the night worrying. Would I bleed out and die before morning? Was my shinbone broken? And, although I tried to push the thought back again and again – how bad would the scar be?